Often teetering on the edge of Global Times-style propaganda, the South China Morning Post suddenly offers a couple of opinion pieces based on rationality. In place of hand-wringing about the need for everyone to embrace harmony, readers get a realistic appraisal of the ultimate cause of Hong Kong's discontent…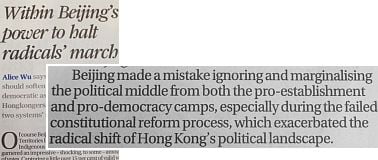 Beijing made a mistake ignoring and marginalising the political middle from both the pro-establishment and pro-democracy camps, especially during the failed constitutional reform process, which exacerbated the radical shift of Hong Kong's political landscape.
The traditional pro-dems – the Democratic Party elders – are the nice cuddly ones. Along with some of today's moderate pro-Beijing community, they go back to a 1980s pro-reunification student movement. The Tiananmen Massacre left them disillusioned, but the Chinese government could have co-opted them after the handover if it had been flexible and pragmatic.
Of course, the Communist Party does not do 'flexible and pragmatic'. The United Front tactics involve splitting the opposition, forcing waverers to choose sides and crushing remaining hostile elements. It might have worked in 1917 Russia or 1949 China, but it has just alienated much of mainstream Hong Kong and is now radicalizing the young.
Looking back, we can see a 10-year succession of events and viral Facebook memes that brought us to where we are now. The defence of heritage sites like Queen's Pier/Star Ferry, Alice Poon's book Land and the Ruling Class, awareness of the 'property hegemony', the spread of micro/'coffin'/subdivided apartments, disquiet about Mainlanders using local services and resources. In 2012, CY Leung took over with a mandate to patch over some of these problems, but mainly to visibly assert and 'implement' Chinese sovereignty. Hence Beijing's 2014 White Paper and Standing Committee edicts declaring Hong Kong's autonomy to be conditional and ruling out free elections. Then we get the Umbrella Movement, the localist/anti-smuggling protests, the bookseller kidnappings, the Mongkok Fishball Riot and the NT Northeast by-election.
This brings us to today. The succession of events is not over. In the background, you have China's looming economic slowdown, Xi Jinping's new totalitarianism, parallels between Hong Kong and Taiwan (Tibet, Xinjiang), and global economic stresses.
A comparison with Singapore is inexact – the Lion City has a different sort of quasi-democracy and different constitutional and cultural relationships with its hinterland. But part of the picture is familiar enough to Hong Kong. Technocrats have grown obsessed with GDP/population growth as an end in itself and oblivious to the notion of quality of citizens' lives. Alarmed at the backlash, they try to fix it…

The columnist omits any specific ways the Hong Kong administration could emulate Singapore's measures. They are all obvious by now: ban non-residents from buying homes; penalize owners who keep apartments empty; get Mainland 'tourist' numbers back down by a good 80%; give priority to locals in school allocation; divert public spending from white elephants to social services; [fill in your favourites].
Don't they have vested interests to obstruct things in Singapore? There's no equivalent of our property cartel or Heung Yee Kuk. They don't have a swamping-with-tourists problem on our epic scale, so no need to attack the tourism/landlord sector. But they do have a swamping-with-workers issue, which implies a battle with employers who want cheap labour. As the columnist points out, Singapore has universal-suffrage, if rigged, elections which the people can use to focus the leadership's minds on who pays their salaries. Hong Kong has nothing left but the street. Thanks, as the SCMP reminds us today, to the stupidity and malevolence of the Communist Party.
Meanwhile up in Beijing, officials are working on an exciting alternative approach: tell people they're stupid…