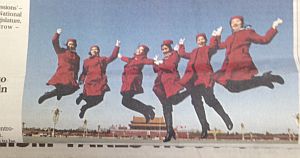 Unable to dismiss and ignore the 'two meetings' in Beijing – but incapable of finding any substance in it – the world's media cover issues that China's leaders should in theory be addressing in the coming couple of weeks.
The obvious is the ongoing conundrum: how to develop a higher-productivity economy while maintaining a control-obsessed one-party state. Bloomberg's report today gives the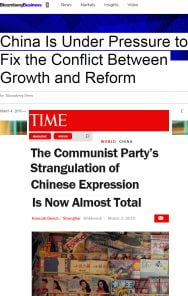 standard analysis of the familiar problems, such as excess debt and capacity, and the official reluctance to shut down loss-making state industries. According to this business-story perspective, reluctance to reform is due to a lack of Thatcherite will. China's leaders would like to kill off the SOEs and have a more competitive, higher-value economy with more services/consumption/etc, but their fear of social unrest is too great – and wouldn't we feel the same way in their place?
The media commentators' assumption is that the need for serious reform is self-evident and beyond dispute: slower growth means fewer jobs and slower rises in incomes, end of story. Some of these observers dig deeper and put it in the context of maintaining leadership legitimacy, but even here they see reform as compelling and a necessity.
But it's not a business, economic-restructuring or even social-stability story: it's purely about how the Communist Party keeps itself in power. The Communist Party wants reform if it helps the Party stay in power; if reform will reduce the Party's ability to keep its grip, it doesn't want it. Simple as that.
The reforms needed to move China up the productivity ladder are not conducive to maintaining – or more correctly assuring in paranoid minds – party-state monopoly of power and control. They include:
 Letting markets allocate capital in order to increase returns on investment. Not do-able because the regime needs to divert the people's savings to favoured sectors to support strategic or family/friends' interests.
 Freeing up other markets, like equities or – more important – foreign exchange. We saw last year that China's leaders are not psychologically capable of abstaining from managing markets. They can't let Hong Kong choose its own mayor; why would they let global markets/'foreign forces' decide the exchange rate of the Yuan and the consequent fate of the nation?
 Allowing other forms of competition, such as for market share. The regime needs to protect favoured players. Whether they are public-sector (like energy and financial giants) or apparently private (Alibaba, Tencent), they are all part of the strategic/kleptocrat structure propping up the Party.
 Accepting a rules-based system to protect intellectual property, enforce contracts and maintain a level playing field. This is not compatible in an environment in which intimidation, cheating and stealing are acceptable regulatory or commercial practices for insiders (eg, the shakedowns of foreign auto, pharma, tech brands). Ultimately, this implies rule of law, which implies a loss of Party control – which means 'forget it'.
 Encouraging and rewarding innovation and experimentation. That means developing an official culture that doesn't punish failure and permits debate. That means freeing up academia and the media. (A glimmer of hope here comes from Time, which suggests that China's current clampdown on the media can't go much further, but as Jiang Zemin might have said – naïve!)
This list could go on. The point is, every time you see a guy in a suit on CNN saying the Yuan will be freely convertible in five years, he is saying the CCP is cool about losing power. Sounds unlikely. Faced with the alternative of letting go, they will chance economic stagnation and tighten controls, every time. Of course, it can't last forever.
Meanwhile, we have some exciting news out of the 'two meetings' in Beijing. Yu Zhengshen, the chairman of the Chinese People's Political Consultative Blah-Blah urges delegates to…
"resist and oppose anything" that might "violate, undermine and weaken political foundation for consensus".
And if that's not inspiring enough, I declare the weekend open with his 'hip and groovy with the kids' thing – and we mean here the Hong Kong kids…

You never thought a phrase like 'We will participate in work related to young people' could sound so creepy and menacing.