The minions (you know who you are) who loyally serve Hong Kong's great and good sit back and relax. For the next 10 days or so, their bosses – the city's leading tycoons and ever-so important public figures – will be stuck in Beijing attending the 'two meetings'.
To those tycoons, the annual gatherings of the National People's Congress and the Chinese People's Political Consultative Conference are a form of torture. For the best part of two weeks they must linger in hotel lobbies waiting for Mainland delegates to finish their lengthy breakfasts and afternoon naps. Then they must sit in a vast hall among hundreds of fellow members snoozing through endless slogan-packed work reports from national leaders. In the evening, they will chat with Hong Kong reporters to catch up with what is going on back home. A few will zip back here for a day and hope no-one notices.
Appointment to the NPC/CPPCC is a burden and test of loyalty as much as it is an honour. It certainly bestows no legislative or advisory clout. The two bodies are rubber-stamp constitutional ornaments, and their annual get-togethers are pageantry. And, for various assistants, bag-holders and running dogs, two weeks of lovely peace and quiet.
Don't look for meaningful announcements of policy initiatives. The hundreds of delegates
will 'vote' to approve the 13th Five Year Plan, which was finalized last year and is itself ceremonial. (Headline of the Day Award goes to Forbes, for 'Four Things You Need to Ignore About China's New Five Year Plan'.) And, needless to say, don't pay any attention to Hong Kong officials over-enthusiastically spreading excitement and glee about the city's 'role' in the plan and the amazing opportunities and belts and roads arising from it. Do, on the other hand, watch for clues about the continued enhancement of the Xi Jinping personality cult. For light relief, there will be grinning ethnic minorities in costume and the uniformed tea-girls jumping together in the air outside the Great Hall of the People. It's basically a very long, slow, audio-visually diminished version of the CCTV New Year Gala.
The fools cannot stop themselves from setting a target for GDP growth. China Daily reports a suggested 6.5%…
If you want to scare yourself about not only China, but the whole global economy, here's Andy Xie. For a dry, measured look at the conundrums facing Beijing, here's the Chinese Leadership Monitor. A few racier extracts…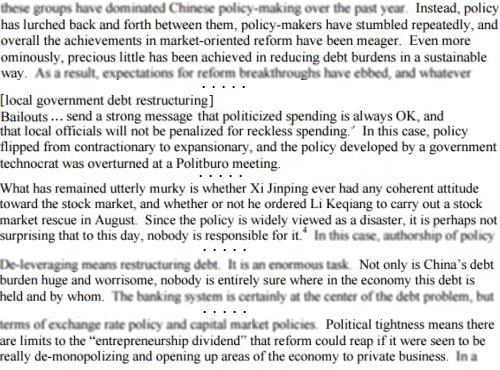 The real immediate fun is going on just over the border in Shenzhen. Property prices rose over 50% in the last year. They work out at around HK$6,000 a square foot, which is obviously lower than in Hong Kong. But if you consider that median incomes over there are maybe a third of those here, this translates into ultra-unaffordability – the equivalent to us of maybe HK$18,000 psf. The affordability ratio (years' median earnings for an average home) in Hong Kong is absurd at around 15-17; in Shenzhen it would work out at 30 or so.
Parallels with Hong Kong in the run-up to 1997 include triads selling places in the lines of people rushing to buy. What's really scary is that buyers are using crowdsourcing to pool cash. This isn't going to end well. I can't imagine how Chinese authorities will try to prop prices up when the inevitable happens (suspending real-estate transactions?). But it's unthinkable that they will sit and do nothing as the Shenzhen middle class see their one remaining safe investment asset class vaporize. The 'two meetings' won't be debating this.
Meanwhile, in much of the country, the 'ghost cities' are still there. It's a classic example of the unintended consequences of too much credit and liquidity. Another is a weakening currency – predicted by Jake van der Kamp today.
Roll on.