The constant churn of restaurants in my once-quiet home district continues. Two new slaves to ruthless landlords have opened in just the last couple of weeks.
Maison Libanaise occupies the old Life Café next to the Mid-Levels Escalator. In fairness, it brightens up the street with a halfway decent mural and actually has a brand/design theme that isn't repulsive (though you shouldn't be able to go wrong with 60s Beirut)…

Around the corner – after weeks of noisy, dusty, street-disrupting renovation – appears something calling itself Belon (an oyster, apparently). Instead of a menu displayed outside, it has some sort of pretentious poem in a frame (it can't not be pretentious, but I'm not totally sure – should have paid more attention)…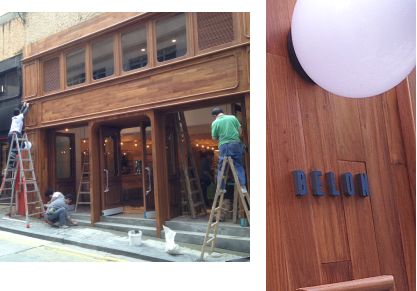 A quick rummage through Google, and I find both these places are run by the same outfit, one Black Sheep. According to the barely-readable-typeface blurb, they do '…niche, thought-provoking restaurant concepts that add to the existing culinary dialogue…' One of
their other contributions to this dialogue and the overall neighbourhood ambience is an outlet with the dismal name Ho Lee Fook.
Restaurant investors must stuff cash into the pockets of the area's rapacious landlords. The word is that Maison Libanaise has tiny portions. Belon, with its snotty/understated veneer and loud lighting, looks like it will go for flat-out haut prix. In theory, the relentless struggle to pad out margins should mean the district goes more up-market, more elegant, more 'tony', more stylish, and chichi, and refined, and oh-so tasteful and high-fallutin' Wah – so high-class la!!!
And then, just a few doors further down…
A pay-by-the-hour hotel! Eeewwwww… What is this – Mongkok?