To counterbalance today's depressing mood, we will begin and end on notes of 'positive energy' and optimism.
First, to its credit, the South China Morning Post carries an enlightening graphic on voting patterns at individual polling stations in Sunday's New Territories East by-election…

Winner Alvin Yeung of the Civic Party did best in particular neighbourhoods of Tai Po, Shatin and Tseung Kwan O. A very brief check on Google Maps suggests that we are talking about middle/lower-middle class areas of private housing or the more genteel public estates. Hong Kong Indigenous candidate Edward Leung did best at polling stations in Tseung Kwan O, Fanling and Tai Po. My unscientific 'Google Maps' glimpse-analysis suggests somewhat grittier New Town districts. This is what you would expect.
The Communist-front DAB candidate Holden Chow, on the other hand, scored best in more rural neighbourhoods – the top two being in Sha Tau Kok, at one of which he won an eye-rai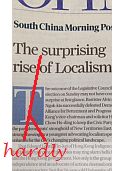 sing 75.5% of the vote. Sha Tau Kok is a little place out in the sticks at the border in the far northeast corner of Hong Kong. A dark, swampy hellhole of tin shacks full of inbreds. Again, as we would expect.
The SCMP is stunned by the by-election result, particularly the rise of localism. The editorial is a classic case of what psychologists call cognitive dissonance. In this case, the writer can't reconcile the loathsomeness and universal hatred of localists with the fact that (in one part of Tseung Kwan O) they won 29.4% of the vote. Hence the use of the word 'despite'…

Delete 'despite' and insert 'owing to/because', and maybe it becomes clearer. You will note also that the writer retreats into the passive voice in order to avoid telling us who, exactly, believed that localism 'used to be confined to a small fraction of society'.
The fact is that up to a few years back it didn't exist at all. Then Beijing denied Hong Kong any hope of legitimacy in government and accelerated efforts to undermine the city's pluralism and identity. The ending of impartial administration and policing, rocketing housing prices, the swamping of the city with cross-border shoppers/smugglers, and official deafness bordering on malevolence – and all the rest – led to serious alienation. 'Pro-independence' sentiment is not deviant: it is the only channel left open to these young people. If the SCMP had any sense of history, it would be thankful that HK Indigenous got only 15% this time.
The big news is the forced confessions of the abducted Hong Kong book publishers. (The Lee Po transcript is translated here and here.) It is hard to see what Mainland authorities are trying to achieve through this gruesome charade, except to further increase the aforementioned alienation of Hong Kong people. At some point, the Hong Kong government and pro-Beijing forces like the DAB will have to publicly embrace Beijing's rancid official story – perhaps in time for September's Legislative Council elections.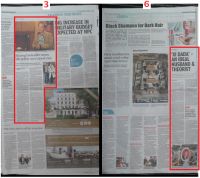 Amazingly, the SCMP leaves the Lee Po story off the front page. It's on page 3, occupying a similar amount of space as the page 6 report on the viral 'Marry someone like Xi' song.
For a touch of the fifth dimension, consider the cosmic weirdness of counterproductive propaganda (the Lee Bo confession) being presented in a report that is itself counterproductive propaganda (SCMP's absurdly incurious and superficial account of the supposed confession).
For light relief, here's some sub-Global Times artwork from page 11…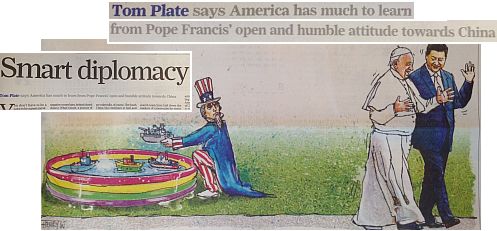 We conclude this gloomy journey into Hong Kong's Beijing-ized English-language media with a quick glance at the My Take column, in which Alex Lo denounces Alvin Yeung's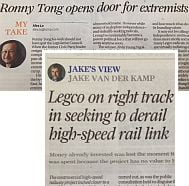 Civic Party for its extremism, notably filibustering. The SCMP is parroting the official line that democratically elected lawmakers who obstruct bad government decisions the only way they can are wasting taxpayers' money and holding Hong Kong back.
But wait! We end, as promised, with 'positive energy' and hope. Over in the Business section, Jake van der Kamp contradicts the My Take column by stating that legislators Definitely Should filibuster the High-Speed Rail monstrosity to death. He suggests using the tunnels for mushroom farming. (I think columbariums would fit, too – and we could re-house Sha Tau Kok residents down there when their border area gets redeveloped).