Interesting thoughts on the Fishball Revolution, here and from the former Civil Service boss here…

Sir David Tang – semi-icon, all-purpose maverick and businessman – spoke to the FCC on Hong Kong's deteriorating governance yesterday…
…and compared Chief Executive CY Leung unfavourably with Li Peng. You can jump to scurrilous gossip about HSBC toadying to CY the previous evening here.
A small but perfectly formed conspiracy theory about the Tsimshatsui Waterfront saga is here. Essentially, the rival (non-Hong Kong) property tycoons who opposed the freebie for New World used their clout in Beijing, which pushed the Hong Kong government to backtrack to preserve harmony among our feudal elite. To give the claim some credibility, the article also quite correctly notes that the tourist attraction is crap…

The property developers are facing the prospect of what are, by their standards, scarily narrow profit margins as Hong Kong's housing bubble deflates. Their big self-deluding trick is not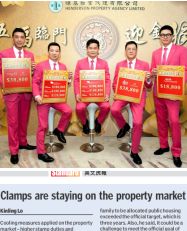 to 'reduce' prices but to offer all sorts of 'free gifts' to buyers. Among the latest, Cheung Kong has handed out a furniture allowance, and Henderson are tastefully dressing guys in pink to give purchasers cash rebates. At some stage, the developers will have to come clean and cut the price tags.
This is where the tycoons could really use some clout in Beijing. They will plead desperately for a repeat of the late 1990s, when they successfully pressured Tung Chee-hwa to abandon his cheaper-housing policy (devised by one CY Leung). But things have changed. Xi Jinping doesn't seem especially impressed with Hong Kong's property barons, and by all accounts CY's one Big Obsession (other than Belt-and-Road shoe-shining) is solving the housing issue. The Umbrella/Fishball movements will not help the tycoons' case for propping up home prices. All they can hope for is for officials to give in to the squealing of middle-class types (like… officials) who bought at the wrong time.
I declare the weekend open with a few examples of globa-multi-culturalism-lization gone berserk. At a restaurant in Mongkok, the Italian egg/bacon pasta classic carbonara goes Korean, with chili and rice cakes…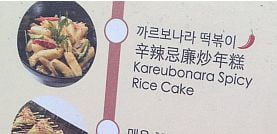 It would be either brilliant or revolting. I think it might actually work. Tempted to give it a go.  I tried the Canadian National Milk Marketing Board of Canada's chicken and cheese congee a while back – with added home-made kimchi – and lived to tell the tale…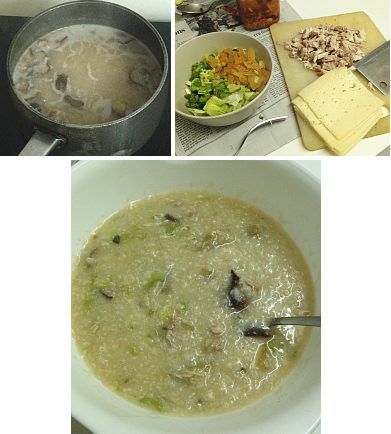 (That's havarti, for the gourmets out there.)
And at a Vanguard near you, a British supermarket chain's Thai subsidiary offers Hong Kong a Cantonese version of a Japanese sauce…