The Hong Kong government is determined to establish, and apparently believe, its own narrative of the Chinese New Year Mongkok Fishball Riot. Officials are now loudly claiming that the Food and Environmental Hygiene inspectors sent to the area that night did not take any actual enforcement action against the unlicensed food hawkers – the implication being that the subsequent violence was unprovoked. If such details seem petty, perhaps that's the whole point: the more we zero in on little things, the less we look at the bigger picture.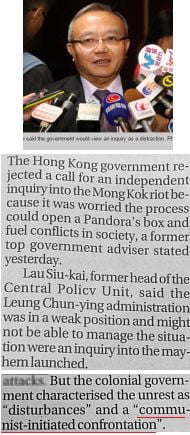 Predictably, the government does not want any sort of independent inquiry. Pro-Beijing think-tank guy Lau Siu-kai rather guilelessly explains that it would open a Pandora's box. (He even wonders whether the administration is not just incapable of managing rock-throwing youths on the street, but of managing the outcome of an inquiry into said youths. The South China Morning Post article, drawing on colonial experience, also offers a label for those perplexed about how to term the riot/unrest/disturbance: a 'Communist-initiated confrontation', which sounds about right from a big-picture viewpoint.)
Lau is correct. Treating the disturbances as a symptom of broader and deeper problems would put the spotlight on too many examples of bad governance to list (inequality, unaffordable housing, the invasion of Mainland shoppers, broken promises on democracy, the abduction of book publishers, an education system designed to fail most students, and an arrogant, contemptuous ruling elite – just for starters).
Instead, a police review of the events will meticulously count the exact number of bricks torn up from the sidewalk, the goriest descriptions of each and every officer's injuries and no doubt an estimate of the cost in millions of taxpayer dollars. The burning questions will demand a tight focus on rioting. Should rioters be banned from wearing masks? But what if they have flu? Should the cops be better armed? Should they use tear gas or pepper spray? Should their uniforms be blue or black? Don't take your eyes off those few hours of mayhem.
Even the Chinese Communist Party identifies reasons for unrest in the Mainland: it's invariably down to evil foreign hostile forces, but at least they don't expect anyone to imagine it just spontaneously happens. To the Hong Kong government, it is a matter of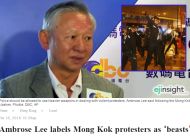 honour to insist that the outbreak of violence occurred in isolation, for no reason other than wickedness. Or maybe supernatural forces. Former Security Secretary and devout Christian Ambrose Lee labels the rioters 'beasts', as in possession by demons.
Anyone attempting to see the riot in any sort of wider context is justifying or excusing or glamorizing violence. If there was no reason for the unrest, the government is obviously blameless – and equally obviously, it won't happen again. Yup.
Far, far away from Mongkok – in Pacific Place Mall – a temporary but ever-so high-class retail outlet has sprung up, under the name Caviar House & Prunier. (Not sure what sturgeon roe have to do with prunes, other than being roughly the same colour. Something to ponder.) When I passed, the salesman was patiently explaining the wondrousness of the little fish eggs to a suitably gullible-looking couple who had that fuerdai look about them. The price list included a 1-kilo tin going for $166,000…

But that's Hong Kong dollars, of course. No Food and Environmental Hygiene enforcement here, either.
At home, I am brought back down to Earth by a leaflet in my mailbox. It is from the exquisitely named Easy Billion Finance….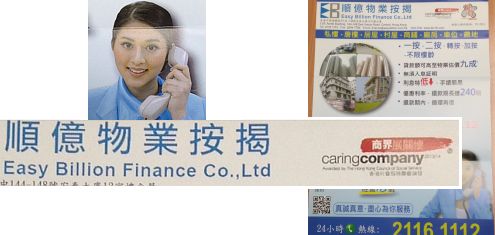 Even more delightfully, they proudly announce that they are a 'Caring Company'. And who am I to doubt them?
Essentially, they are offering 2nd mortgages, a type of loan that goes by various other names – such as 3rd mortgages, 4th mortgages, 5th mortgages, etc. Like a person using his Visa Card to pay off his MasterCard, or Li Keqiang getting local governments to roll over debt to spend yet more on pointless infrastructure, this is a sign of extreme dimwittedness and impending doom. Yes, more impending doom.