Warning: Readers are advised to have an air-motion discomfort receptacle handy before proceeding…
You might have missed it. Whoever wrote the copy certainly hoped we all missed it. But it did not escape my attention, and I filched it and filed it under 'Grotesque'. It is page 7 of the Standard on February 5…
Landlord Allan Zeman teams up with 'Dr' Ken Chu, boss of the Mission Hills golf complex over the border, and actress Miriam Yeung, star of such artistic achievements as Love in the Buff, to bring you something called Centreville in Hainan…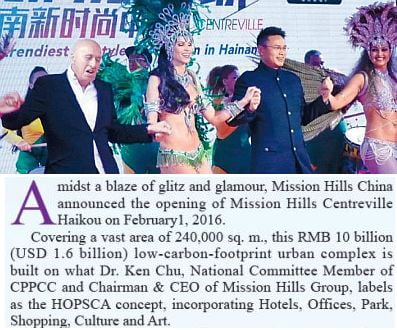 It is more than just a resort. It is a project of outdated, vacuous clichés, cynicism, blatant opportunism and, we suspect/hope, a portent of the end of an era – a time when crassness, greed and excess collapse in on themselves. (We might note here that Hong Kong's Age of Disneyland/Tourism/Shopping Wretchedness finally seems to be passing.)
Among other things, you have to wonder just how much more Zeman can wring out of the 'Lan Kwai Fong' theme – the original now being a hub of overpriced tacky pseudo-bars along streets full of vomiting teenagers and asylum-seeking drug-dealers…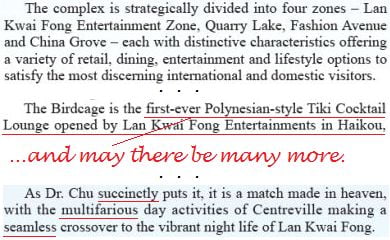 I mean – is there a single illiterate, cave-dwelling, foot-binding, iodine-deficient, ragged peasant left in the remotest corners of Gansu or Guizhou who has never seen, and will still be impressed by, dancing fountains…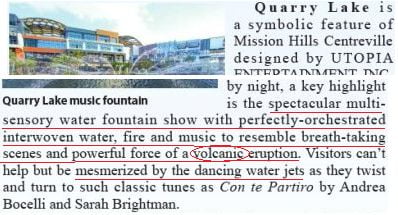 And is this the right time to open a mall the size of Lantau full of the dreary Exclusive Luxury Designer Brand Label outlets, just when the planet is so stuffed full of this junk it's gagging on it…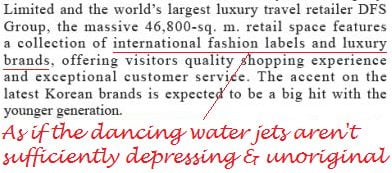 And then everything starts to go seriously, horribly, downhill…

'Dr' Ken Chu is a member of the CPPCC, a meaningless Chinese Communist Party pat on the head for shoe-shiners. Basically, anyone who wants to do this scale of business on the Mainland has to kowtow. This is a culture where there are no bounds to obsequiousness – it cannot be too ludicrous. Ritual self-humiliation is taken as a sign of loyalty. You have an insatiable lust for money at any cost in terms of self-respect? You need stamps of approval from Beijing? Belt and Road teddy bears coming up.
Desperation and tastelessness combine to create unwitting surrealism…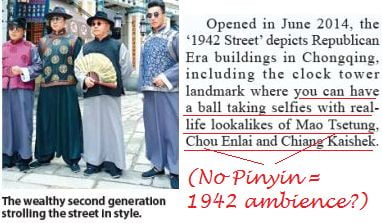 On the subject of the surreal… The idea that someone could write an interesting book on the tragic mental sickness known as golf sounds bizarre. But Dan Washburn pulled it off with his magnificent Forbidden Game. In it, he describes a vast Mission Hills mega-project starting up in Hainan comprising 22 golf courses. Local families lose their land, though a few make small fortunes setting up stores selling noodles to the thousands of labourers toiling away digging bunkers and fairways and bogeys and all the rest of it. But, in an uncharacteristic fit of common sense, Beijing bans construction of golf courses, and the reader is left wondering what will become of this half-finished monstrosity.
Of course, the Zeman-'Dr' Chu Centreville Theme Hub Zone could be a different Mission Hills multi-course complex in Hainan. But assuming it's the same one, it's an interesting twist at the end of the story…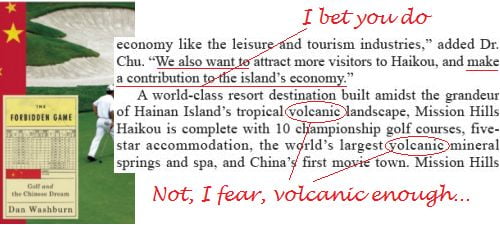 These golf facilities were not supposed to be there. The politics-business murk is par for the course (haha) in what may be the twilight of China's Leninist kleptocracy. The golf thing is inevitably wrapped up in corruption. To get around the prohibition, the sprawling greens masquerade as parks or sports complexes and are in turn covers for development of luxury villas that end up being sold to the same Beijing officials who banned golf in the first place. (See Washburn's 2010 FT piece here, and more here.)
So God knows what the Zeman-'Dr' Chu-Love in the Buff Concept is really about. All we can say is that it is too dazzlingly putrid to let pass unnoticed in a 10-day-ago issue of the Standard. And maybe historians will find that it merits a footnote when they come to assess the Fishball Riot Era – because all this stuff is connected.