Remember that time in late 2012 when Xi Jinping disappeared for a couple of weeks? One story was that he had been hit with a chair when a brawl broke out during a meeting of princelings. As a red herring, this would be clever: so absurd and embarrassing that it couldn't be made up. A deeper, darker suspicion was that there had been a coup attempt. The subsequent rounding-up of Bo Xilai, Zhou Yongkang, General Xu Caihou, Ling not-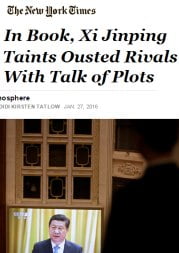 my-dead-Ferrari-driver-son Jihua and others supported this notion. Now it's pretty much official – Xi publicly states that the Party thwarted 'political plot activities'.
Assuming that this isn't another that's-what-they-want-us-to-think ruse, the implication is that Xi is now totally in charge and all possibilities of treachery eliminated. So everything is fine and dandy.
But of course there is that economic cataclysm/slightly bumpy landing looming. The more frantically Chinese state media insist that everything is great, the data are accurate and reform is proceeding apace, the worse our expectations get. Last year's stock market/exchange rate screw-ups were clear signs that there is no grand strategy – they are making it up as they go along. It looks like the sort of panicky decision-making you would expect when one man has assumed an unhealthy degree of control, doesn't understand economics, and is surrounded by people who tell him he is correct and flawless. The clampdowns on human-rights-and-everything add to the impression of an emperor with no restraints and no idea of what to do next except cover problems up.
Wang Baoan, the guy in charge of China's statistics has just been arrested, 'apparently for corruption'. This is just a day or two after experts and reporters at Davos and around the world mocked (or continued mocking) the nation's economic data as fabricated. As that Washington Post story reminds us, deputy head of Beijing's Taiwan Affairs Office Gong Qinghai was placed under investigation for corruption last week, just days after Tsai Ing-wen's victory. And the same happened to vice-chairman of the Securities Regulatory Commission Yao Gang in November, a few months after the stock-market crash. And let's not forget the other regulators and banker/fund manager types getting arrested and in some cases apparently committing suicide.
Xi might have defeated an attempted coup, but here is a classic case of the 'enemy is us' – his system's own inability to get out of its economic morass. Real reform is out of the question as it means the Communist Party will lose its grip on power. Avoiding reform is also out of the question as the loss of legitimacy also means the Communist Party will lose its grip on power. The only thing he can be certain of is that the Party will not lose its grip on power. A conundrum he can only hope an ongoing slaughter of the scapegoats will solve.