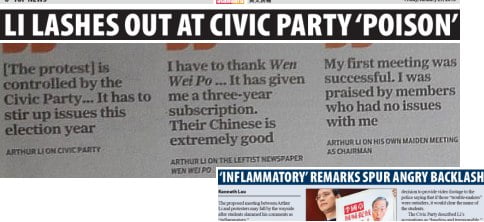 Is Arthur Li consciously or subconsciously imitating Donald Trump? The new and pro-Beijing chairman of HK University Council seems to have perfected the wig-wearing narcissistic populist mogul celebrity interloper's technique. Talk crap you probably don't even believe; lay on some more outlandish smears as dimwits who fall for it
jump up and down in glee; bask in the shock, incomprehension and anger you provoke among your foes and indeed among many moderate and sensible onlookers.
The rowdy protest at the university campus the other night was not clever. The students and their supporters barricading council members in buildings were inviting a PR backlash. They are lucky that it was delivered by the unlikeable, mouth-frothing 'King Arthur'; his predecessor Leong Che-hung's 'wounded innocent' persona would have roused more sympathy (and anti-student feeling) in the wider community.
The students' mistake is to focus on minutiae and symbolism distant to much of the public. The issue is not Arthur Li, or the University Council, or its members' unsurprising refusal to accede to a boisterous crowd's demands that they come out and 'talk'. The issue is the Chinese government's gradual but steady subversion of Hong Kong's free society. Hong Kong's main hope lies in Beijing's malice and nastiness further alienating and provoking people. Trapping Council member Leonie Ki in an ambulance – while probably tempting – is counterproductive.
The good news is that, unlike students, Beijing has an apparently limitless capacity to alienate and provoke.
The backdrop here is China's economy – non-reforming into stagnation – while Xi Jinping compensates with his neo-totalitarian rectification movement with Belt-and-Road characteristics. The international media are coming to terms with the very real possibility that China has jumped the shark. After the Washington Post's commendable summary of the Communist Party's illegal persecution of critics overseas, the Financial Times presents a good overview of Beijing's tightening grip on Hong Kong (if you ignore the Occupy-brought-city-to-standstill cliché).
The FT needs a quote from a pro-Beijing figure or two – and most of them are trying hard to keep their heads down at this sensitive and unpredictable time. Businessman-politician Michael Tien bravely agrees to go on the record, and opines that pro-democrats, radicals, Occupy folk and other dissenters have brought the wrath of Beijing upon themselves.

It is true that the Umbrella movement 'provoked' Beijing's subsequent interference in local universities, but of course Beijing's earlier refusal of democracy 'provoked' Occupy – and so on back through the years. Xinjiang 'provoked' Beijing into curbing Uighur religion and culture. Tibetans 'provoked' Beijing into shutting monasteries and imposing its own Buddhist order. By electing the wrong person President, Taiwan has just 'provoked' Beijing into hints of military attack. The FT article ends with a section about Hong Kong's next round of 'provocation', namely the rise of young localists rejecting Chinese identity.
This has also happened in Taiwan. Indeed, where Taiwan is concerned, the Chinese Communist Party has blown it. China's co-opting of exploitative business elites, the threats of violence, and the plain obnoxiousness – the complete inability to win friends by being nice – has lost the next generation and with it Taiwan, for good.
Hong Kong is constitutionally attached to the PRC. But Beijing just cannot stop itself from doing its United Front book-seller-kidnapping soft-power worst. Arthur Li is one extra little bit of alienation to ensure maximum resentment and hostility towards the glorious motherland. The students should welcome him.
I declare the weekend open with I Am Fishead for some rainy day viewing on psychopaths, pills and corporate leadership.