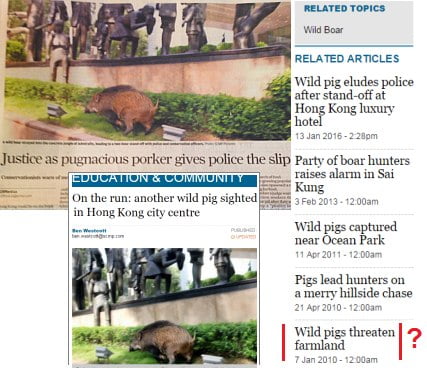 The week comes to an end with another wild pig rampaging through downtown Hong Kong – this time in the park near Citibank Tower. A few days earlier, a fellow member of the sounder frolicked outside the Conrad Hotel. As the Wednesday report noted, during hot weather, the creatures sometimes come into the urban areas and launch themselves gracefully into swimming pools or stroll nonchalantly around shopping malls to keep cool. But at this chilly time of the year, there must be another explanation.
A logical one comes quickly to mind: they are looking for somewhere to warm up.  On reflection, such tough and wiry beasts probably don't feel the cold, or at least wouldn't admit it. For a clue, we should look at the South China Morning Post links and see that the paper files these stories under 'Education and Community'. Far from being dumb animals, the boars wish to improve themselves and be among us and involved. Perhaps they have come to complain about one of the SCMP's earlier items – 'Wild pigs threaten farmland' – and ask for the right of reply to put their side of the story.
The last time I encountered the species was up at Leaping Dragon Walk above Chai Wan. They were lazily hanging out and watching the humans…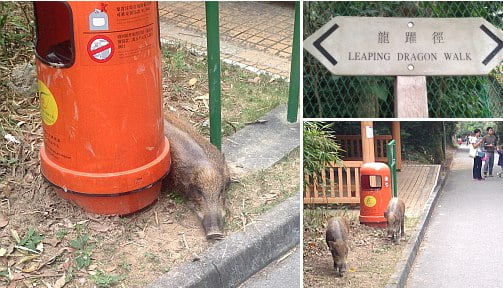 That was a couple of months back. Something has since shaken them out of their lethargy. Whatever it is, it took place just a few days ago. The only thing I can think of is the Big Subject that burst into prominence on Wednesday and is on everyone's minds constantly.
I declare the weekend open with the news that word of the astounding opportunities has reached the hogs, and they are eager to apply for scholarships and get themselves appointed to the Steering Committee. They are the 'Belt and Road' Boars, joining hands with Regina Ip to make her Maritime Silk Road Society 'more Boaring than ever', and dedicated to the tireless promotion of 'Super-Connector' Boar-dom.