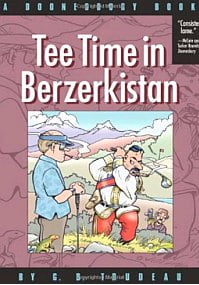 Those traumatized, mind-numbed zombies you see staggering around Hong Kong this morning – they're the poor wretches who had to sit through yesterday's Policy Address. Even by the usual standards of these tortuous annual rituals, Chief Executive CY Leung's speech to the Legislative Council was an ordeal.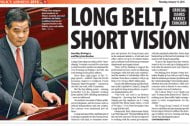 The main reason was its big theme: 'Belt and Road', also (formerly, at least) known as 'One Belt, One Road'.
(An interlude for anyone who needs reminding… This is, of course, the Chinese nationalist central planners' fanciful vision in which Eurasian hell-holes like Bezerkistan pay Beijing tons of money in return for pointless high-speed rail systems and irreversible membership of the Grand Imperial Greater China Co-Prosperity Zone. It's the ultimate win-win, with China exporting its excess industrial capacity and leapfrogging the evil Americans in the race to rule the planet.)
The more officials insist that 'Belt and Road' offers Hong Kong a vast array of bounteous economic opportunities, the more obvious it becomes that the 'initiative' is of no relevance to this city at all. The big debate today is over how many times CY mentioned the phrase in his address. You will read numbers ranging from the high 30s to the low 50s. The South China Morning Post counts 48 times. I am delighted to sort out the confusion with the help of the pdf file and 'Find' function. While 'Belt and Road' appears 44 times, a search for 'belt' alone yields 54 results. The answer to this mystery is that CY varied the phrase a bit, to keep his audience gripped with excitement on the edge of their seats, thus…

The Silk Road is a fascinating subject. Did you know that Nestorian Christianity reached Xian by the early 7th Century – during the Tang Dynasty – and penetrated what is now Mongolia and even Korea, via these ancient trading routes?
However, as we all recall, the overland network lost significance around 500 years ago as the Portuguese, then the Dutch and other Western Europeans started going directly to Asia by ship, around Africa and over the Indian Ocean. The once-powerful intermediaries – Bezerkistanis, Muslims and Venetians – were sidelined and went into decline. Nowadays, huge container ships do the job, and no-one seriously sees a new future for spice-laden camel trains linking Urumqi with Byzantium.
Or then again…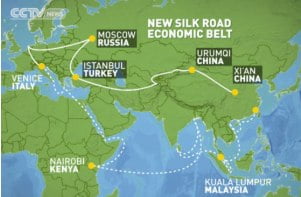 (Kenya, as we all know, is part of the historical symbolism thanks to Admiral Zheng He's Ming Dynasty fleet, and is indeed probably a part of the glorious motherland.)
Who knows what this is really about? Blatant and overweening revanchism runs through the Chinese nationalist psyche, encouraged by fixations with historic 'victimhood' and even ethnic superiority. 'Belt and Road' may partly be a cynical/arrogant/naïve hope of offloading surplus steel and construction capacity, and partly a clumsy grab for strategic influence driven by paranoia about the West. But it also looks like a sad attempt to take emotional or sentimental comfort in dreams of recreating a long-dead past. That's usually a sign of wanting to avoid the future, change and reform – which sounds like Communist Party thinking in a nutshell.
Anyway – Hong Kong is officially going to be a One Belt, One Road Super-Connector, whatever that is. (It doesn't come cheap, with HK$1 billion of taxpayers' money going on scholarships for 'Belt and Road' students, who will be stewing mutton in their yurts on our campuses soon.)
CY's laborious building-up, veneration and idolatry of the 'Belt and Road' nothingness is bizarre and perplexing. He does not need to make such an embarrassing pre-emptive kowtow to persuade Beijing to give him a second term in office. And it doesn't help him or his masters to bludgeon and alienate Hong Kong's citizenry. His address followed this extreme overindulgence with predictable inanities about tech and land and then a plethora of sensible but minor measures about HPV vaccinations, ivory smuggling and slippery toilet floors. The overall effect is disorientating. CY has either gone nuts, or is trying to turn the rest of us that way.