Hong Kong lawmaker Emily Lau writes to Chinese leader Xi Jinping, asking him to look into the case of the five abducted book publishers. The chances of a response are zero.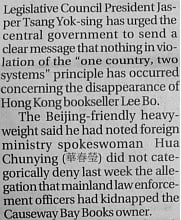 Acknowledging the existence of far-away individual mortals is not part of the imperial style. And Emily is not just another of the Zhao family's 1.3 billion nonentity-serfs but an actual outcast – forbidden (like many of her pro-democracy peers) to enter the Mainland for refusing to kowtow.
Meanwhile, pro-Beijing veteran Tsang Yok-sing invites Chinese officials to categorically deny that Mainland security services kidnapped one of the five, Lee Bo, in Hong Kong, and state openly that nothing took place that would infringe the Basic Law or 'One Country Two Systems'. His phrasing is interesting. We can read it as indulgent, apparently giving Mainland authorities the benefit of the doubt. Or we can see it as a highly loaded question, of the 'Have you stopped beating your wife?' variety. Again, there will be no response: as a loyal follower of the Communist Party, he is supposed to remain silent or repeat the official line, not publicly raise ideas.
Official insistence that Lee Bo is a PRC citizen and Mainland media commentary that the publishers threatened national stability contribute to overwhelming, if technically circumstantial, evidence that China has kidnapped the five and is holding them. Beijing is looking for a face-saving way out. Most people in Hong Kong – even in the loyalist camp – want the Chinese authorities to sweat and feel some humiliation, even pain. The regime overstepped the mark in snatching someone off the street on this side of the border. Such a violation paves the way for the whole one-party Leninist package: jailed lawyers, forced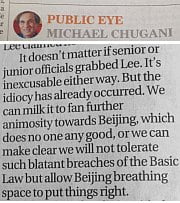 confessions, harassment of families, show trials, asset seizures, Internet censorship, and the end of Hong Kong's whole reason to exist.
But not so fast! One person, at least, feels sorry for the Chinese government in this moment of embarrassment. South China Morning Post columnist Michael Chugani urges us to 'allow Beijing breathing space to put things right'. Do not 'milk it to fan further animosity' to tyrannical dictators who order kidnappings in our streets, because, you know, they have feelings too.
Thought for the day: there used to be a time when banned Taiwan authors were published in Hong Kong.