Former Hong Kong Chief Secretary and latter-day moderate pro-democrat Anson Chan doesn't usually get angry, let alone spread jollity. But she delivers a little seasonal cheer today, by dragging laboriously anti-pro-dem South China Morning Post columnist Alex Lo into a corner and giving him a good spanking.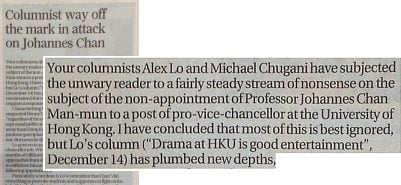 In her letter to the editor, Dame Conscience rebuts several of Lo's critical comments about Hong Kong University law professor Johannes Chan, whose promotion was rejected amid much controversy a few months ago. More amusingly, she mocks his (and fellow democrat-skeptic columnist Michael Chugani's) 'nonsense' on the subject, and needles him for his pompous ephebiphobia. He hits back with some defensive nitpicking that sort of proves her point (as I infer it) about his grumpy/fat/middle-aged/youth-hating persona.

I say 'persona' because I doubt that either Lo or Chugani really believe their own anti-dem diatribes – their tone is more 'need the paycheck' than 'burning conviction'. The whole hang-up about Hong Kong's stupid young people is straight out of the script issued by Beijing's local Liaison Office, and is derived from standard Leninist logic. The Communist Party is infallible; therefore, anyone who disagrees with it is wrong, and either hostile or (if too young to know better) misguided by hostile forces.
Thus Hong Kong's young people are not disgruntled because of poor governance, inequality, broken promises on reform, crazy rents or threats to freedom, but because they don't understand. If they learn more about China, as ex-Chief Executive Tung Chee-hwa recently proclaimed, they would miraculously realize and feel that everything is wonderful, and stop protesting and complaining.
As ever, no-one really mentions what some people term the 'elephant in the room': the inescapable fact that the Johannes Chan saga was planned and executed by the Communist Party's United Front as part of a wide-ranging and ongoing campaign to subvert Hong Kong's independent institutions and freedom. By not spelling this out – either out of squeamishness or obsession with the specifics of the case – Anson and other pro-dems are ignoring, and you could say unwittingly abetting, forces that are infinitely more evil than any SCMP columnist.
I declare the weekend open with a magnificent example of a true diatribe. In the SCMP's truth-infested Business section, Peter Guy says 'I spit on the rotting carcass of the parasitical tourism/'retail' sector'. This is also a classic example of how, on rare occasions, a writer should not keep it pithy (as I did there) – the more words, sentences and paragraphs, the better…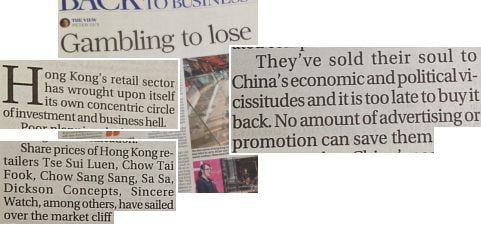 I could carry on reading this all day…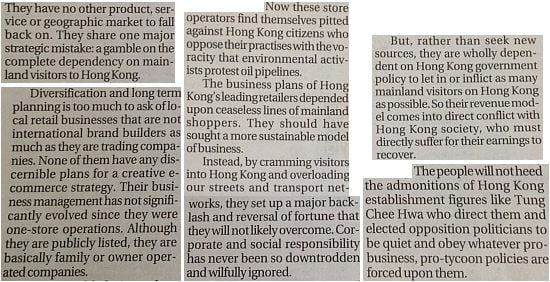 Sesame Street was brought to you today by the word 'ephebiphobia'.