Helped by Beijing's local Liaison Office, Chief Executive CY Leung has imposed a new style of governance in Hong Kong since taking office in 2012. The gloves are off, and the government and its followers treat critics with undisguised malice, spite and venom. It is – with suitable adaptation to local conditions – the standard Communist United Front approach: crush the small number of hostile dissenters through intimidation, smears and subterfuge, thus scaring moderates into joining the obedient and loyal masses. These are the tactics that have brought such harmony to Xinjiang and Tibet, as People's Daily reports every day.
But now – a boost for those of us nostalgic for a kinder and gentler Hong Kong! Back to the days of benevolent bumbling arrogance, when inept and patronizing bureaucrats desperate to Serve the Community dreamed up embarrassingly trite measures to divert and amuse their childlike populace. Behold the gloriously pitiful 'Appreciate Hong Kong' campaign.
It is, inevitably, brought to us by Chief Secretary Carrie Lam, who reminds us that it follows the 'Hong Kong: Our Home' and 'Bless Hong Kong' initiatives that spread good vibes throughout the city with such dazzling effect in 2013 and 2014.
Before we get to the, um, substance, we should note some real evidence that CY Leung's 'Boot Stamping on a Human Face Forever' leadership style has shocked the Hong Kong Civil Service into adopting a grittier, more manly, approach to public communication. In the past, a facile publicity campaign (like Let's All Wash Our Hands, Shall We?) would be accompanied by featureless kindergarten-level grinning comic characters. 'Appreciate Hong Kong' uses relatively adult circular colour-coded logos. That's progress.
In other respects, the initiative has all the ingredients of past attempts to spread happiness, unity and general amnesia, and put trivial problems like unaffordable housing, rising inequality and creeping authoritarianism to one side. You can check them off…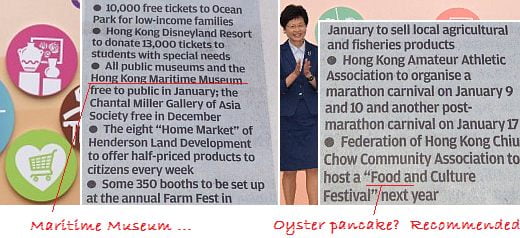 Free fun stuff (for a limited period, conditions apply) for the simple-minded, easily amused 'less advantaged' and disabled members of the community.
Generous Government Gifts, in the form of brief free access to things you've already paid for through your taxes (in this case, museums).
Token participation by a property developer, via its Dickensian charity for the deserving poor, so we will all 'Appreciate Hong Kong Tycoons'.
A fair or market for small local non-tycoon producers, of the sort most cities have all the time as a matter of course.
An excruciatingly lame sounding carnival. Or two.
A cultural event hosted by some patriotic shoe-shining association.
Nothing remotely imaginative that allows local people and groups to get involved through voluntary bottom-up projects because that would be freaky and scary.
An underwhelmed 'is that all?' 'John Tsang budget' feeling, as we realize that the civil servants ran out of ideas at this stage, and this is the end of the list.
Depressing line of men in suits at campaign launch to arouse interest and enthusiasm.
Meanwhile, a bank predicts continued increases in local housing prices, officials are still passing the buck on the lead-in-water affair, and the Communist Party is planning the next stage of its Decolonization Rectification Purge of Hostile Forces and Traitors in Hong Kong.