A hike up Violet Hill to forget the problems of the world, and a vivid illustration of Hong Kong's wacky weather. What was a calm and dull-gray day at Wong Nai Chung Reservoir (elevation 742 ft) was a half-gale-force maelstrom of mist at the peak (1,425 ft), where the path plunged into the swirling cloud.
But perhaps the most interesting sight…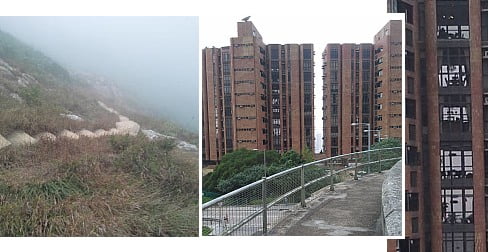 …was a residential tower down near the reservoir. From one angle, you could see clearly into half a dozen or so living rooms in a column. They each had an identically positioned dining table, surrounded by chairs, with a sizable chandelier overhead. Which I guess is partly inevitable, given that the developer designed the space and electrical wiring with this layout in mind – as per every tacky property ad. And if the units are rented, the landlords presumably fit out the homes accordingly.
It just struck me as a sad lack of originality or choice: you live in this sort of place, you will have this furniture, set out this way. Not that I should be surprised – I've seen far worse in terms of oversized lighting. I'm not the only person in Hong Kong who lives without a dining table/chandelier, but maybe the only one who indulges in voyeurism of the piano-class-attending-kids caste.
Meanwhile, strolling around Western and Wanchai, we see more District Council election candidates successfully if inadvertently portraying themselves as part of the grassroots community – the chandelier-free world of grimy streets, gloomy doorways and piles of cabbage and cleansing liquids…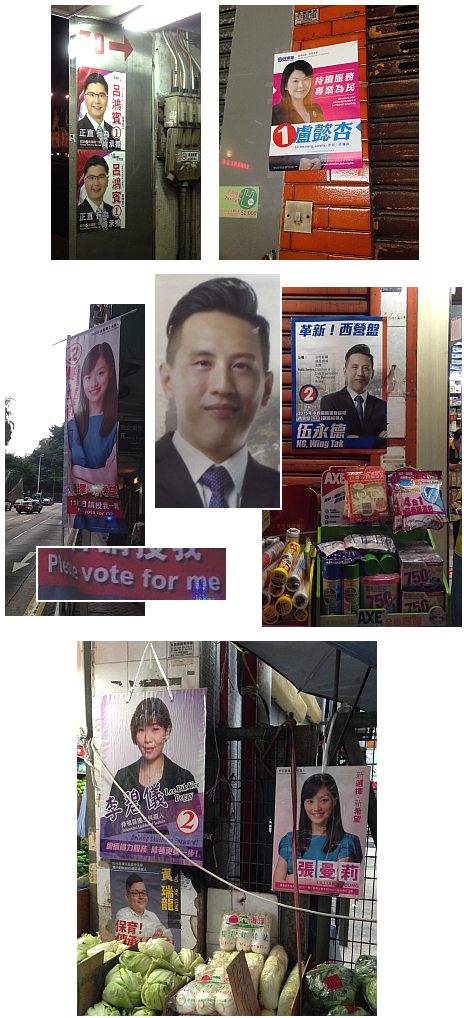 As always, we must be careful about judging by appearances. The astoundingly creepy-looking Ng Wing-tak, with his smarmy leer and scary quiff, is in fact some sort of French chef with major Umbrella Movement credentials. That said, generations of fathers' advice to sons to beware of young ladies with alluring smiles seems as solid as ever.