I peruse the exciting District Council election materials. If these guys were chasing the US Republican presidential nomination we would be freaking out over the anti-Christian red cups at Pacific Coffee, and at least one candidate would be claiming that the Great Wall of China was a granary. Instead, the choice in my neighbourhood is between the Democratic Party's Ng Siu-hong and the incumbent Jackie Cheung, who styles himself an 'independent'.
I have mislaid Jackie's leaflet, but it essentially described his tireless efforts as our local council representative in sorting out traffic and planning issues. I hadn't noticed, but district councils are mainly advisory bodies, so you don't expect much.
SH Ng's glossy brochure promotes himself as a native of the area and a family man. We get photos of him at demonstrations and community gatherings and at number-two kid's baptism. The clincher, for me, is that he builds up his elder child's character and self-reliance by forcing him to clean floors in bare feet…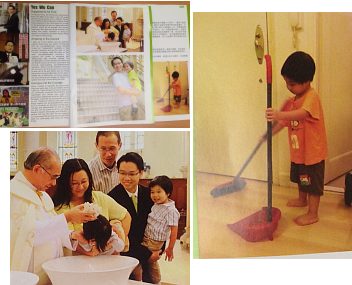 Wherever you go in the more prosperous and worldly parts of Hong Kong right now, you'll see election banners for fresh-faced and friendly-looking 'independent' candidates. Dr Vienna (who is running in the adjacent ward) is an example. Some are genuinely non-aligned (some constituencies have more than one 'independent' candidate) but many are in fact part of the pro-Beijing camp. These are neighbourhoods where the educated and genteel residents would be repulsed by the sort of greasy-haired, middle-aged, grumpy brute with a DAB/FTU logo who attracts votes with free lunchboxes in public housing estates. So if you have a pro-democrat and an 'independent' on the ballot, and no overt pro-Beijing candidate to be seen, that's the explanation.
The Communist Party's United Front machine has been grooming a younger and more-presentable generation of patriotic election participant; DAB glamour-girl figurehead leader Starry Lee is an example. But it doesn't follow that all the vaguely smart and trendy-looking 'independent' candidates are faithful and devout followers of the Communist creed who have been co-opted into running in elections. Some may first and foremost be ambitious about taking part in politics and dream of holding public office. They attach themselves to the pro-establishment camp as a means – indeed the only means – to that end. Real politicians, after all, lust after power, and the greasy pole is off-limits to members of Hong Kong's many pro-democracy parties. The pan-dem groups are strictly for people who put principles first.
There's another clincher for Ng Siu-hong – a personal attack on his opponent as a pro-establishment stooge…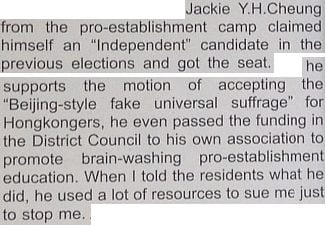 Of course it's no secret that Jackie is pro-government, but I hadn't heard that he had sued Ng (though it is clear from the way his posters are regularly defaced that someone doesn't like the Democrat). This is the sort of caddish obnoxiousness that incurs the wrath of all right-thinking people, and I declare the weekend open with a resolution to vote for the plucky Ng on November 22.