It used to be easy and relaxing to be a moderate, even liberal-minded, member of the establishment in Hong Kong. Rule Number 1 was that you didn't openly criticize the local government or its far-away masters or other respectable 'elites', like prominent tycoons. Rule Number 2 was that you further proved yourself by engaging in a bit of mild and effortless shoe-shining. And that was it – you could be an insider. You could be friends with the more venerable pro-democrats or voice support for reputable human-rights or environmental causes, and still be appointed to government advisory boards and awarded Bauhinia medals. They were kinder and gentler times.
The rules have changed. Today's Hong Kong government, under orders from Beijing's local Liaison Office, is engaged in a struggle with pro-democracy forces that are part of a foreign plot to overthrow the motherland's Communist regime through 'colour revolutions'. You are either with us or against us. If you sit on an official-sounding committee, you are expected to take part in crushing the pan-dem evil. None of this decadent, sitting-on-the-fence, even-handed 'Hong Kong values' stuff anymore.
It is putting these poor wretches in an impossible position, trying to straddle Hong Kong's divide between decency and despotism. Several members of Hong Kong University's council, we can be pretty sure, have gone through torment after learning – from whatever indirect and informal persuader – that rubber-stamping the Search Committee's choice for a new pro-vice chancellor was not an option, and nor was neutrality. 'Serving the Community' just got a lot more demanding.
I recently bumped into a well-intentioned and modest poor wretch of this sort. In exchange for no financial reward or any hint of fame or glory, he long ago accepted an invitation to sit on a committee to offer occasional advice that – should it get through bureaucrats and other interests – might make Hong Kong a slightly better place to live in. And now, all of a sudden, his little board of dedicated volunteer do-gooders have the Proposal from Hell dumped upon them.
They are expected/required to 'recommend' that certain Post Office mailboxes featuring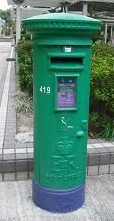 the colonial royal cipher be stashed away in dark corners as Disneyfied ornaments for 'conservation' purposes. In practice, he fears, this means publicly endorsing the plan to place metal plates over the images on the remaining operational boxes, thus to cleanse Hong Kong, China of this inappropriate British symbol. Apparently, other advisory bodies concerned with particular types of location are being dragged into this, but his colleagues feel pressured and exposed, having to do someone else's dirty work.
Who is behind this? He confirms the official line that it goes back several months; Beijing ogre Chen Zuoer's comments about decolonization came after and were unconnected to it. Some obscure patriotic group demanded the ciphers' removal and left officials with the impossible alternative of defending the offensive foreign emblem.
Did the patriotic group think up the idea, or were they acting on behalf of (say) the Liaison Office? He hasn't considered this possibility. There was a Rule Number 3: that you lean towards guilelessness and are incapable of cynicism. Has anyone anticipated that the defaced mailboxes will attract young nativists, who will most likely fix stickers or posters of their own witty pro-colonial/pro-independence design upon them? Rule Number 3 kicks in again, and he finds the prospect hard to believe but slightly amusing – it makes him feel slightly better for a few minutes. I console him with the thought that his advisory board is so obscure that no-one will even notice he was involved. He will avoid civic duties in future.
I declare the weekend open with the exciting answer to the question on all South China Morning Post readers' lips: what was in that heavy glossy insert 'Style' stuff that I chucked straight away? Here you go (and you're welcome)…