The week gets off to a rather queasy start, with a torrent of the most unseemly shoe-shining gushing from the pages of the South China Morning Post. Page 3 reports that wartime cannibalism prompted aging casino/property tycoon Lui Che-woo to launch a copycat Nobel Prize 'world civilization' award…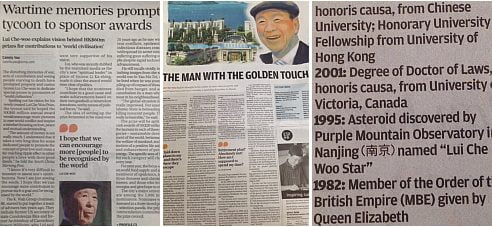 Even if this were news, it still isn't really 'news' as such, having appeared on September 24. (The cannibalism dimension seems new. Maybe guardians of Lui's image felt the awards looked too obviously like a vanity project, and a gritty diversionary backstory was in order – so instead of feeling merely ill, readers would feel seriously, vomitingly ill.) If that weren't enough, the City section carries a near-full-page, glowing bio of the man, listing his embarrassing honorary doctorates, medal from the Queen and the asteroid named after him.
Observers of the uniquely intense Hong Kong/Overseas-Chinese style of obsequiousness will know that this sort of thing doesn't happen by chance. The octogenarian billionaire who owns the SCMP has ordered that his organ heap ridiculous quantities of flattery upon his peer for some reason – which we neither need nor wish to know.
But hold on to that barf bag! In fact, grab a few more.
The SCMP also carries a double-page spread devoted to the '100 Most Influential People in Hong Kong'. It comes courtesy of Debrett's, 'in association with the SCMP' – without a discreet 'advertorial' disclaimer, so we are invited to imagine that this is sort-of news. (Debrett's is a UK company that teaches heathens how to eat peas.)
What definition of 'influential' is being used here? Historically, the word – from which we get 'influenza' – refers to possibly malevolent forces that defy rational explanation. So there's your answer.
There are no political figures in the 100. Hong Kong's Liaison Office controllers are missing, as are their local minions in the government. Instead, we get the depressingly familiar has-beens from the world of cartelized business and socialites, probably dredged at random from the Tatler 500, plus a few that I suspect were inserted by subversive SCMP staff. In case you think I am making any of this up, you can see it all here.
Business and Entrepreneurs include 'Sir Ka-shing Li', Cheng Yu-tong, Lee Shau-kee and Peter Woo, as well as the SCMP's owner Robert Kuok. The missing property tycoons are the Kwok brothers (too icky as one is in prison), Ronnie Chan (see below) and… Lui Che-woo. I believe we have an answer to the extreme groveling of the cannibalism-traumatized mogul.
The Arts features Jackie Chan, Louis Cha and, to add gravitas, Nury Vittachi (really – I said you can check). The Sport category brings us such renowned athletes as Winfried Englelbrecht-Bresgesomething (whadya mean, who?) and the lithe and speedy Timothy Fok. Under Food, we see the inexplicably ubiquitous Bonnae Gokson, landlord Allen Zeman and the SCMP's own Susan Jung, who actually knows about cuisine (as in recipes I would try if I had a week to spare).
The Media section highlights various ad executives whose campaign budgets the SCMP understandably lusts after. Also Richard Li, son of Sir KS. The Science and Medicine category includes property tycoon Ronnie Chan (don't ask), plus various geeky-looking guys in white coats who make Hong Kong the cutting-edge, space-age research hub it is.
The List has a shamelessly tokenistic scattering of unheard-of, presumably real, people with possible actual achievements. It also includes Mainlanders like Jack Ma with no meaningful Hong Kong links. The blurb says this Directory of Despair should 'inspire and empower the people of tomorrow'. To emigrate, perhaps.
Meanwhile, the SCMP is getting a new editor (don't miss the HKFP's gloriously nasty comments) – someone who apparently lives in a Liaison Office world where Hong Kong students ask deep and meaningful questions about the just-ended Fifth Plenum of the Communist Party, which passed the outline of the 13th five-year plan…
The day draws closer when readers (if any) are on their knees begging for more tycoons' memories of cannibalism and frequent updates to the Debrett's Rich Bores 100.