The 'open letter' is a rhetorical device that pretends to address one person (who in fact is too grand to take notice) in order to attract a broader audience to the message. The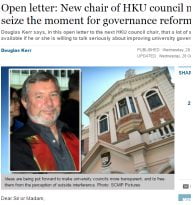 example in today's South China Morning Post's op-ed page is ostensibly written to the next Chair of the University of Hong Kong Council, when the office has not yet been filled. As a further twist, the author clearly does have a specific individual in mind: a hypothetical 'reactionary chair', which readers will take to mean Professor Arthur Li. Who is, indeed, too grand to take notice.
Up to just a year ago, no-one with any sort of life had ever heard of Hong Kong U Council, let alone paid the slightest attention to its other-worldly academic proceedings. Today, it is the most visible spearhead of the Chinese Communist Party's United Front mission to extend its influence into Hong Kong's traditionally free and pluralistic institutions. The Council's compliant worthies played their role in Beijing officials' obsessive and vindictive campaign to deny pro-democracy professor Johannes Chan a promotion. And now all eyes are upon it.
Many in academia believe that the abrasive Arthur Li – for his own reasons – shares the Communists' distaste for pro-democrat-ridden HKU. It is hard to believe that the government is going to be stupid enough to appoint him to the Chair; it looks counter-productive and more trouble than it's worth. (Then again, the year-long smearing of Johannes Chan was overkill. Maybe some Liaison Office agent's bonus depends on it.) But to the author of the SCMP's open letter, and to many at the university, the independence of their institution is under real threat.
They are surely right. But their response is delusional. They demand reform of university governance. In other words, they are asking the Hong Kong government – which takes orders from Beijing – to voluntarily abdicate its right to influence university affairs via stooges on the Council. That would make an interesting open letter: "Dear United Front, please kindly refrain from your Leninist strategy of tightening your grip and ultimately strangling our pluralism and freedom of thought. Thank you."
It is also insular and ignores the much bigger picture. Some 10 years ago, leading Catholic figures denounced and rejected a government policy to broaden membership of publicly funded schools' governing bodies. (As it happens, Arthur Li was Education Minister at the time.) The outspoken Cardinal Zen pretty much claimed that the Communist Party would try to exert control over Christian education. Many observers thought he was being paranoid. Beijing's increasingly overt intervention in Hong Kong's domestic affairs in the last year or two suggests he knew what he was talking about.
The United Front process is not aimed simply at undermining one university's governing body, or even education as a whole. It long ago infiltrated parts of the local business world – capitalists selling the rope to their hangman. The media, of course. Law enforcement. Legislative Council committees. And from now on, every supposedly independent advisory or governing body with officially appointed members.
Yet despite the sinister creepiness, United Front tactics are clumsy and almost childish in a modern, pluralistic society. The Liaison Office has expended a lot of stooge-capital just to blunder its way into HKU Council. In order to fight back, people defending pluralism need to be blunt and open about what is happening.
Note how apologists for the Communist Party are getting away with accusing those who resist of being the ones using smears and tricks or, incredibly, of McCarthyism. Next thing, the almost self-fulfilling notion that HKU Council had no choice but to reject Johannes Chan in order to protect the university from (implicitly, Beijing) interference will become received wisdom.
There is no room for politeness here. Any column or speech – or open letter – on the subject that fails to mention the phrase 'Communist Party' or at least 'Liaison Office' by name is giving ground. The Communists smear with lies; the good guys should smear them back with the truth.