The Magna Carta is coming to Hong Kong; it will be on show at Sotheby's gallery at Pacific Place from November 11-14.
The big, tough, almighty and hyper-confident Chinese authorities were so nervous of the 600-year-old scrawled-Latin document that they (in effect) cancelled its recent public display in Beijing and Shanghai, confining it to British consular premises. Do ultra-nationalist Mainlanders want to know the real reason their military did nothing yesterday when a US ship transited China's claimed waters in the South China Sea? Simple – the USS Lassen was waving a copy of the Great Charter, and the PLA fled in terror.
The UK Consulate's announcement includes a quote describing the precious item as…
…a supreme law which is above the King and which even he must not break.
You can see why the Chinese Communist Party lacks enthusiasm for this concept. In the same press release, Hong Kong's Secretary for Justice Rimsky Yuen heaps praise on the symbol of the city's common law heritage as…
…an embodiment of a number of core values such as equality before the law and access to justice which the community of the Hong Kong SAR shares.
Which is all a bit rich coming from an administration apparently under orders from Beijing to migrate the city from nasty evil foreign rule of law to Mainland-style 'rule by law', as seen in capricious post-Occupy prosecution decisions.
The funny thing is that the drafters of Magna Carta in 1215 were pushing the interests of a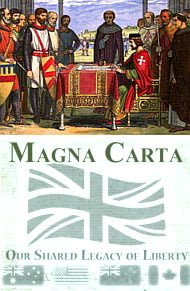 small privileged upper caste, not the people. The treaty could almost have been written for contemporary Hong Kong. Substitute 'earls' with 'property developers' and 'forests' (a curious obsession at the time) with 'tourism sector', and you pretty much have it. Indeed, some clauses – like not having to repay loans from Jews – would be considered too immoral for even the most grasping of today's tycoons (well, apart from one or two second-tier Chiuchow slimeballs I can think of).
Will the Magna Carta produce a 'Patten Effect' when it goes on show here in two weeks? Post-1997 visits by Chris Patten have attracted abnormally large and delighted crowds of ordinary citizens eager to greet their former Governor. The reason is not, if we are to be honest, mere affection for the jovial and rotund ex-politician. The occasion presents a magnificent opportunity to humiliate Beijing's appointed Chief Executive by giving the old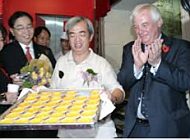 colonial leader an embarrassingly warm welcome – while the detested Tung, Tsang or Leung would not even dare show his face in public.
The exhibition at Sotheby's lasts only four days, so any outpouring of interest from the masses will look all the more impressive. If Pacific Place sees long lines of bright-eyed students clutching yellow umbrellas and parents bringing their small children to see the ancient artefact, it will not be a sudden craze for medieval history, but a pointed message to Beijing's despotic Leninist regime and its local puppets. And CY Leung will peer out of the window at Government House, seething with contempt for a populace that refuses to exhibit a trace of patriotic excitement for One Belt, One Road and the glorious motherland.