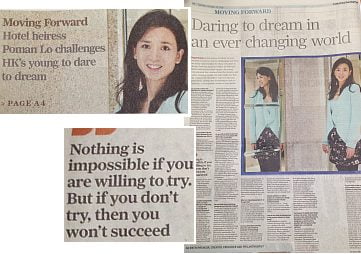 Like a dentist's drill barely halfway through a major root canal, the South China Morning Post's post-Occupy/Umbrella 'Moving Forward' series grinds on and on. It begs to be skipped, but coming straight after Financial Secretary John Tsang's comments that HK$12,000-a-month dishwashers threaten our economy, we must take a quick look. Condescending blather from the bumptious and out-of-touch can be entertaining. It might even offer us a tantalizing glimpse of how soon we can expect Umbrella Uprising II.
Sure enough, we are not disappointed. There must be subversive elements within the SCMP who arrange for pro-tycoon/Beijing content so offensive in its bias that it undermines the proprietor's patriotic and shoe-shining aims. Or it could be that the newspaper's Party Secretary robotically insists on politically correct messages set at maximum shrillness, unaware that they are self-defeating.
Today's profound thoughts on how rebellious young people can think less and obey more come from one Poman Lo, daughter of Lo Yuk-sui of the Great Eagle real-estate empire. The interviewer's approach is not merely uninquiring, not even deferential, but horribly tongue-jammed-up-orifice…

OK, you think – that's enough fawning. Time for a real question. But no…
So her 'enviable' (heiress) background contrasts with people whose background is 'not good' and thus less able/likely to be successful in business. While this seems stomach-churning, it makes a bit more sense if you define 'business' as 'inherited share in rent-seeking cartel'.
Hong Kong's real-estate moguls benefit from the collusion and the government-rigged land scarcity that keep property prices high. But they could always squeeze more profit out of development if the labour were cheaper. Poman therefore subscribes to the John Tsang/Edward III theory that keeping less-skilled workers' wages low is a Good Thing…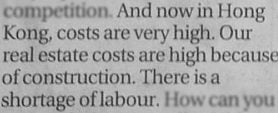 The last question is: "Would you like to give us an example – preferably a bit garbled – of how immensely grasping and out-of-touch people like you are?"
"Screw people who want affordable homes, and screw people drowning in the flood of Mainland shoppers – just gimme gimme gimme money money." We can only conclude that the SCMP really wants the kids out on the streets again, quicker than you can say 'We'll be back!'
(If you missed it – check out the 'total returns' of the companies of which Poman's daddy is chairman/MD/CEO.)