With a few exceptions – like Australia's and New Zealand's – aboriginal peoples tend to be branded for tourist promotion purposes as local Red Indians. They must wear headbands with feathers, dance in circles, have totem poles and decorate things with stripes and zigzag patterns. So I was a bit skeptical when I found myself on a local bus going up into the hills of Pingtung County in southern Taiwan last week. Especially as we passed a sign welcoming the hordes to the Taiwan Indigenous Peoples Cultural Scenic Park Zone Hub and its gift shops full of headbands and totem poles.
However, even if the destination proved to be some sort of mock Disney thing with plastic thatched huts and staff in nylon loincloths, the ride was worth it. The mountain scenery is all hair-raising cliffs, soaring peaks, bends, swirling mists and waterfalls, and you can do it right now here. To add a touch of the dangerously wild and exotic, you have to fill in a registration form at a police checkpoint as you enter the Head-hunting Tribal Mountain Reservation (no-one checks names or ID, though)…

Eventually, you get to Wutai Township – a moderately picturesque settlement nestled on the side of a winding valley. It has some eccentric (think Steiner/eurythmy) rustic (mostly slate) architecture, which looks too modern in style to be authentic 'savage jungle cannibal', but at the same time looks completely non-lowland Taiwanese. You wonder if the roadside restaurant uses wood for fuel as a gimmick for tourists, or because it's cheap (it doesn't bother much with furniture, or overdo the hygiene, if that's a clue). There's also a grotty-looking church…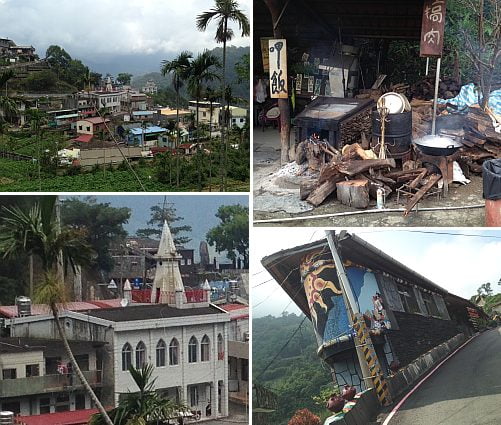 Rows of jawbones and more-naïve-than-native sculpted murals create a certain edgy ambiance…
It's too grimy and gritty to be by Disney Imagineering. There's obviously some sort of aboriginal heritage thing going on here, with some sort of government subsidy to give a theme-concept boost to what would otherwise be a pretty feeble local economy.
So who are these people? The place was pretty deserted (it presumably pulls in crowds at weekends). The inhabitants look distinctly Filipino, so my instinct was to think 'gotcha!' – they've imported migrant workers as actors. But actually, they are Rukai. They've been here a good 7,500 years longer than any Chinese, and now speak Mandarin as well as their own Austronesian (like Malay/Filipino) languages. And yes, they and their neighboring tribes were really into head-hunting, but not anymore (the jawbones are from wild boar).
The aboriginal culture lives on in the form of millet (as in millet ice-cream) and aiyu fig jelly. The elders dry peanuts and zip around the steep lanes on disability scooters. The woman who served up her home-made aiyu was also stitching a zigzag headband…
This is the authentic tribal heritage. By 'authentic', we mean no doubt oppressed and marginalized by Chinese settlers who turned up several centuries ago to plunder Formosa's camphor. And – inevitably – we mean screwed up in the 19th Century by bearded bible-bashing Presbyterians. Been here before. Last time I was in Taiwan, I learnt about Dr Mackay, the Canadian missionary who pulled natives' teeth for Jesus.
One noticeable thing about Wutai compared with plain everyday Taiwan is the complete absence of Buddhist, Taoist, kitchen-god, incense-burning, luck-bringing, ancestor-groveling Chinese religious features. Not one little roadside altar. The whole tribe was converted to Christianity – from shamanism and animism – in the 1860s, and they are still serious about it, complete with wacky Transylvanian-Mormon-style slate church…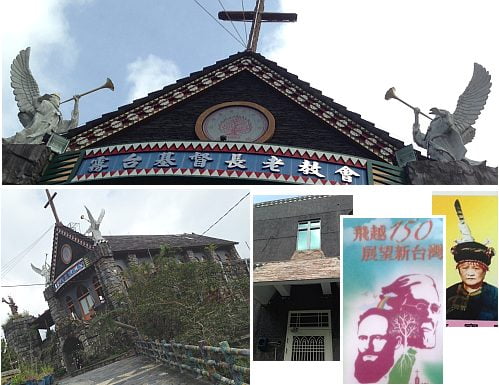 The touristy things seem to meld into the 'authentic' 21st Century tribal culture fairly seamlessly. Serving fig jelly to trendy Kaohsiung-ites who are into indigenous ethnic culture is the culture, along with iPads, the peanut crop and going to church. If it comes to that, how much is Taiwan's Chinese culture Americanized or Japanized, or how much is the Mainland's contaminated by Manchu or Marx-Mao? Or Hong Kong's by the evil imperialist mailboxes? Etc, etc.
Then, it's back on the bus for the death-defying trip through the mountains down to the city…