Fearsome stuff in today's South China Morning Post. Hong Kong needs to strengthen its anti-aircraft missile capacity – which, it has to be admitted, has been abysmally weak for as long as I can remember…

And the city must 'reconcile' its common-law system with China's civil-law one…

In this column, Richard Wong notes that the continental European-style codified approach used in the Mainland '…works very badly in dictatorships, where it politicises justice and leads to socially inefficient outcomes…'. Hong Kong, he suggests, needs to 'pay dues' in return for having its separate English system. (Hosting anti-aircraft batteries presumably isn't enough.)
The weirdest part is the accompanying artwork, which shows a set of scales balancing a fat Mao-suited Chinese Communist stereotype and a World War I German soldier in a creepy Prussian spiked helmet…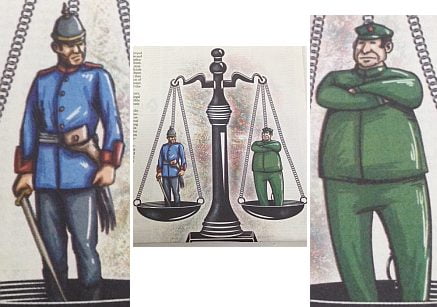 Germany does feature in the article as the root source of China's first modern legal code (in the late 19th Century, when Qing reformers followed Japan's example). But this doesn't explain the peculiar illustration. It passes the sufficiently-bizarre-to-cut-out-and-keep test.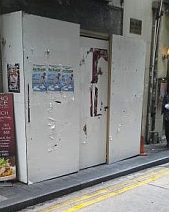 In despair, I return to the neighbourhood nightmare that should by now be known as Hoarding-gate. It was in early-mid July, if I recall, that this wooden structure (right) appeared, consuming most of the narrow sidewalk and forcing people to walk in the road. The government's idiotic Efficiency Unit laughably failed to do anything about it, and Dr Vienna, my friendly local crypto-United Front politician, similarly let me down. More recently, workers renovating the premises have also erected bamboo scaffolding around it, leaving pedestrians a fairly challenging 12-inch gap…
However, the exciting news is that we have someone officially to blame: Cicada. There was a Cicada restaurant down the hill at some stage, and now for some reason it will be reborn here. I think it was one of those places that jumped on the 'tapas' bandwagon, offering the free snacks found in Spanish bars for the price of a regular meal. I wondered at the time why someone would name a restaurant after what is basically a noisy cockroach.
The new Cicada is looking for 'cool, fun' dish-washers. Desperate young Nepalese and Filipinos tossed aside by the Hong Kong education system can apply next door at Enoteca.
This brings even more memories back. Yes, it was exactly 10 years and 20 days ago that this establishment drew attention for having the name 'acetone' backwards. (Intriguingly, it survives.) It is hardly surprising that it is run by the same people behind the soon-to-reopen Cockroach. At least the hoarding will finally come down. The new restaurant will place a little stand on the sidewalk to hold a menu. And I will take great delight in telling tourists perusing it not to waste their money there but go to the daipaidong down the hill for something halfway authentic and value-for-money. This gets some of the tourist pestilence out of the area and reduces the overpriced themed eatery concept's revenue – my idea of a win-win.