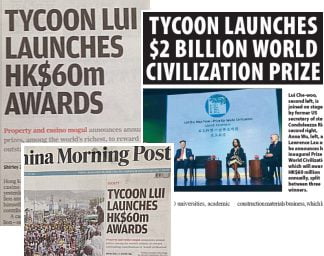 Impressed! While we knew tycoon Lui Che-woo's grandiose quasi-Nobel 'Prize for World Civilization' would get a splash in Hong Kong's shoe-shining media, we didn't expect quite this level of high-profile fawning. The quantity of cash – HK$2 billion total or HK$60 million a year – helped catch the eye, of course, and the Communist Party's approval of the harmony and positive-energy claptrap didn't hurt. And then, of course, the glowing coverage might just also reflect the importance of the old man's K Wah Group and Galaxy casinos as sources of advertising revenue.
Buried away elsewhere in the news…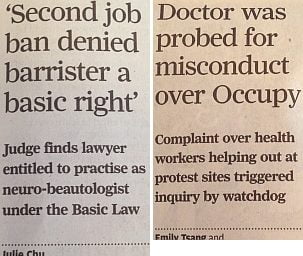 So the legal profession has to allow one of its members to moonlight in some Sino-New-Age quack 'alternative medicine' baloney, while some United Front malevolence tries to get a doctor disciplined for manning a first-aid station during Occupy.
But double standards can come back with a vengeance. Ask the MTR, which has recently decided to make it a daily practice to bully local young musicians who carry their instruments on trains.
It doesn't take much lateral-thinking effort to turn this into another localist battle in Hong Kong's mighty ongoing war between Good and Evil. Hongkongers
carrying cellos get penalized while Mainland shoppers are free to clutter up the transport system with cases of Yakult and (reportedly) washing machines and mattresses. One category of passenger is peaceful and creative, while the other inconveniences everyone and makes money for landlords, so (without wishing to labour the point) no prizes for guessing which one gets picked on. A protest at Tai Wai Station – a key Locust Express stop – is now planned. Bring a piano. (I declare the weekend open with the thought that, in fairness, MTR staff brave enough to mess with the redoubtable-looking 'Zither Girl' possibly deserve medals.)