Behold the Third Side Middle Road Moderation Movement, founded by some not very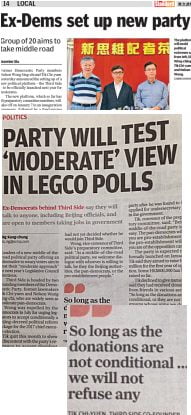 exciting people eased out of the Democratic Party for wanting a more conciliatory approach to Beijing and being willing to work with the local administration. According to the South China Morning Post…
[Nelson] Wong, vice-convenor of Third Side's preparatory committee, said: "As a middle-of-the-road political party, we welcome dialogue with whoever is willing to talk, be they the Beijing authorities, the pan-democrats, or the pro-establishment people."

He also said they would have no problem accepting government appointments.

"That is a way we can influence governance," said Wong.

…

Tik [Chi-yuen], convenor of the preparatory committee, said: "Being a middle-of-the-road party is not easy. The pan-democrats will say you are pro-establishment and the pro-establishment will say you are of the opposition camp."

…

"So long as the donations are not conditional … we will not refuse any donations."
So far, so On The Make. In Hong Kong's stunted and deformed political system, parties can never form an administration. The disciplined DAB/FTU Communist Party front exists to mobilize the masses. The other groups serve mainly as platforms for personalities – either eternally idealistic pro-democracy campaigners or opportunistic/grasping pro-government sleazebags. There are more chiefs than Indians, and it is amazing that new groupings do not spring up daily rather than weekly.
But let's look at Third Side's other supporters. They include Shih Wing-ching, boss of Centaline real estate agency (and one-time student radical), an academic from the private Shue Yan University, and a boss from Hung Fook Tong herbal tea company.
The wealthy Shih is also connected with Path to Democracy, founded by Ronnie Tong, who left the Civic Party out of a desire for a more conciliatory blah blah etc. Shue Yan University has (through its founders and leadership) impeccable pre- and post-colonial establishment credentials. As a trusted Chinese-medicine brand, Hung Fook Tong does nicely out of the Mainland-shopper phenomenon.
Joining these dots, it is not too fanciful to imagine that Beijing's locally based officials are pulling some strings here. We might think they have better things to do with their time
than divide and rule the hapless mainstream pro-democracy camp by nurturing obscure and desperate-looking rival bands of wishy-washy losers. But that would be to underestimate their obsessive loathing for the pro-democrats. This is one small battle in a vast war between the Communist one-party state and the hostile global forces that seek to contain China.
Which brings us neatly to the 'One Belt, One Road' vision-project thing.
Reading between the waffle and the slogans, this Chinese policy seems to be a cynical plan to export the country's construction and infrastructure overcapacity while hooking backwater-nations and crooked regimes from Laos to Pakistan to Bezerkistan into becoming malleable tributary states, prostituting their resources and geopolitical position to the Middle Kingdom.
I recently met a pro-establishment figure who had apparently been at some sort of Beijing-organized 'One Belt, One Road' familiarization study group, where he had been converted with a vengeance. He assured me that I was barely scratching the surface.
The purpose, he said, was to 'fence America out' of the whole region stretching from the Western Pacific across Central Asia and possibly up to Eastern Europe, including the Indian Ocean. He assumed every other regional nation would relish this prospect. At one point, he excitedly compared China today with Japan before World War II, which I took to mean wishing/needing to free itself from dependence on Western powers for raw materials through expansionism. In his enthusiasm, he didn't notice my shock or disbelief. He was getting to the climax of this sinister side of the China Dream: the really, really big deal, he concluded, was the replacement of the US Dollar as the world's major currency.
I put it down to Communist officials' talent for spreading inspirational messages among its more gullible, eager-to-please followers. But then I read this scariness, in which a PLA major-general presents a Party gathering with his thoughts on Taking Over the Planet.
It's pretty lengthy. Essentially, the guy has read up on the last century of international currency arrangements, noted a link between the US Dollar's value and global upheavals, and concluded that the US systematically arbitrages on its control of both the world's currency and its political and economic events. In other words, he is convinced that the US is not only powerful and devious but smart enough to micromanage the coming and going of international wars, revolutions and economic crises in order to manipulate its currency and rip off other countries. For all I know, trendy Trotskyites, anti-Jewish banker freaks and others would agree. But here's the point: rather than denouncing this evil Yankee conspiracy against humanity, the major-general simply says that it is now China's turn.
I look forward to Third Side announcing their position on "One Belt, One Road' some time.