Today is Shaw Prize presentation day. Nasa scientist William Borucki will pick up the award for astronomy at the Hong Kong Convention and Exhibition Centre, along with winners in the life sciences and mathematics categories. The 'Chinese Nobel', as it is sometimes called, was founded by late movie mogul Sir Run Run Shaw. What it lacks in stature compared with the venerable European institution it at least partly makes up for with generous cash prizes for the laureates.
Yet by coincidence – or possibly not – a second Hong Kong-funded Nobel-type award will be launched today, just next door at the Grand Hyatt. This will be the Lui Che Woo Prize for World Civilization, named after himself in all modesty by property and casino tycoon Lui Che-woo. (No website, but his lawyers have copyrighted the name, so don't you dare go pirating T-shirts.)
Apart from his flat cap and the Hong Kong K Wah construction company, Lui is best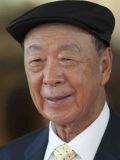 known for the Galaxy casino empire in Macau. They have obviously been affected by Beijing's ongoing clampdowns on corruption, capital flight and all the rest – with profits for first-half 2015 down 43%. Recent action against the sleazy junket money-lenders suggests Macau's booming 'gaming' industry (money-laundering, loan-sharking, triads, hookers, migrant labour and grotesque architecture) has peaked and is sinking back into the slime. So Lui could use something to cheer himself up, and what better, at age 85, than something that links his name for posterity with 'advancing civilization' and 'the betterment and welfare of mankind'?
The media invite…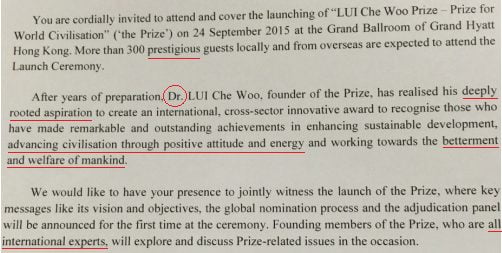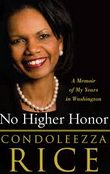 Wah, so high-class lah! One of the prestigious deeply rooted international experts in attendance will be former US Secretary of State Condoleezza Rice. Why Condie? Or maybe I should put it 'Why, Condie?' I would hate to think she's hard up. I'm sure there's a good reason.
Secretary for Financial Services KC Chan will represent the Hong Kong government – his boss the Financial Secretary, and his boss the Chief Executive, apparently being otherwise engaged, unfortunately.
CY does make it to the Shaw one. Notwithstanding that, it will be interesting to see how our tycoon media-owners' news outlets manage their coverage of the rival Shaw and Lui quasi-Nobel events. While one grandee is dead and the other getting on, there are younger generations to shoe-shine and both dynasties have potentially useful historic or current Mainland connections. It's not that pre-emptive kowtowing will bring any obvious benefits, just that nagging doubt about what unpleasantness could conceivably happen if you fail to show due obsequiousness. But how to divide the relative groveling between the two? It's the sort of worry that keeps newspaper-owning tycoons up at night.