Like most of the city's businesses eager to expand market share among Mainland consumers, Hong Kong's Christian churches tend to avoid upsetting the Chinese Communist Party. Unlike the Evangelical Biblical-literalists, some of whom see no contradiction in opportunistic attachment to the pro-Beijing camp, the Catholics and mainstream Protestants do occasionally speak out. And so it is that Cardinal John Tong –

though moderate compared with his staunchly pro-democracy predecessor Joseph 'Zen' Chan – complains about the Chinese government. Not about the arrests of human rights lawyers, not about growing Liaison Office interference in local institutions, but about the removal of crosses from churches in Zhejiang.
The campaign to dismantle crucifixes is part of the whole Xi Jinping freak-out-about-everything approach to maintaining social harmony/saving our CCP ass. As with forcing Xinjiang Muslims to eat during daytime in Ramadan, or evicting monks from monasteries in Tibet, you have to wonder whether this policy is a tad unsubtle and possibly counterproductive. But what do we know about running the glorious motherland?
If it was being done for reasons of aesthetics, I could sympathize with the Chinese officials' clampdown on the visual appearance of Christian churches. At best, the architectural style of Wenzhou's houses of worship can be described as Mormon-Disney, with Stalinesque-Byzantine influences.
Well, OK – seriously ugly…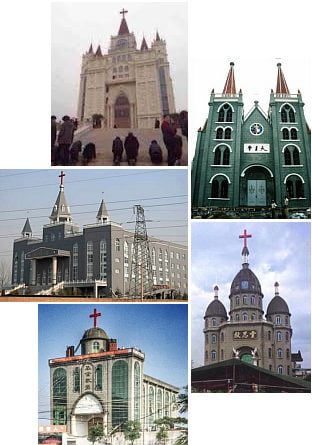 Here in Hong Kong, design is exciting, fun and even subversive.
Yesterday, I noted a 'Discover the Basic Law' Multi-media Interactive Art Exhibition being assembled in Central Market. The show is organized by the government's propaganda unit and features work by students from something called the HK Design Institute. Chief Secretary Carrie Lam opened it at its last location. Despite a rather fetching dual-purpose one-country-one-system spittoon/chamber pot, I feared the worst…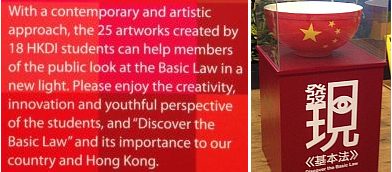 Today, it is all in place. I am delighted to report that the students – all veterans of the Umbrella movement, I suspect – have wittily undermined this dismal concept by doing drugs and producing hilariously idiotic pieces that clearly poke fun at the Basic Law. The funniest part of course is that this sabotaging of the project has gone totally over the heads of the clueless bureaucrats at the Information Services Dept…
I declare the weekend open with a warning that, if you feel like acquiring one of these works as a souvenir, the exhibition is tightly guarded…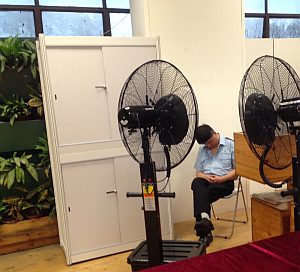 …which is a pity, because I would seriously, definitely like this…