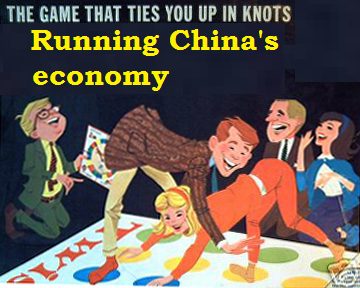 China's 'one-time adjustment' to its currency turns into a 'two-time adjustment' and today maybe it will become a three-time one, or simply morph into a 'too-busy-panicking-to-keep-count adjustment'. As if life's not hard enough having to micromanage and stall the collapse of an inflated stock market, Beijing must now simultaneously attempt to fine-tune the correction of its overvalued currency.
Unlike in the old days, there's a lot of Yuan circulating overseas where people freely decide what they think the unit is worth. The Chinese government is discovering the concept of other people's 'expectations' and even being forced to let foreigners help determine the currency's exchange rate. It must be a very uncomfortable feeling for paranoids accustomed to a Leninist one-party state that can snap its fingers and miraculously limit

the death toll from this blast in Tianjin to (at the time of writing) a mere 17. Chinese leaders are having a hard time accepting that markets have a life of their own (see here for more theory about the devaluation).
In Western, or at least English-speaking, democracies, politicians tend to be lawyers. We like to mock – for example, calculating how many of them at the bottom of the harbour constitute 'a start'. But their dominance in politics reflects our whole philosophy of society and life. With the community's blessing they devise rules, regulations and enforcement, within which all people are free to do as they please. Individual liberty and free markets are a sort of ordered anarchy, and running the system is a rough-and-ready behavioural science.
In Communist countries, including China, politicians tend to be engineers. The idea of sitting back and seeing what happens is alien. To them, society and the economy are like machinery. The self-appointed elite experts who control it can make it perfect if they adjust a valve here, use more lubricant there, increase the voltage on that bit, reduce the pressure in another part and so on. Everything can be controlled exactly using mechanics and the laws of physics.
It has been fashionable in some quarters to see China as the system that works and will own the future. The country's rise in just a few decades from nowhere to global number-two is astounding, while Western-style capitalism and money-politics are failing. But looking at China today, we have to wonder if the Communist Party's miracle is reaching its limits. The leaders see enemies everywhere, from crucifixes on church roofs to geeky students in Hong Kong. They are putting themselves into desperate contortions in their attempts to tame and control markets. They are showing possible/apparent/real signs of preparing for a regional military adventure to divert their population's attention if and when the economy gets really bad.
In the West people make jokes about lawyers but let them run the government; in China, the government fears the people and arrests the lawyers. Neither is ideal, and maybe China's system will muddle through this time – but right now it really isn't looking like a model that will last centuries.
Yikes – the Bohai Gulf from satellite.