Economists and commentators go into frenzied-chatter mode as China devalues its currency by 1.9%. What, they all wonder, does it mean?
As an export-booster, the move is a drop in the competitiveness bucket – enough to shave a few pennies off the price tag on a Shenzhen-made T-shirt in Walmart's. To the extent it does make exports cheaper/imports pricier, it undermines Beijing's aim of moving away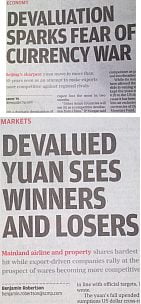 from the export model to greater domestic consumption. More reassuringly, perhaps, being hitched to the US Dollar has pushed the Yuan up a lot against other currencies like the Euro, so this is all OK on a trade-weighted basis.
Another theory is that the Chinese government is simply letting the currency find its own market level; offshore Yuan trading suggests the official exchange rate was a bit too high. This might also help convince the IMF to include the Yuan in its SDR basket of Big Boys' Currencies, which Beijing considers important, presumably as a matter of face.
Some observers think the devaluation will help China conserve foreign-exchange reserves. Others think it will encourage capital flight.
Even after sifting through the outpouring of collective wisdom from the Financial Times, Wall Street Journal and all sorts of others, we are none the wiser. Understandably, the international business press is most interested in the repercussions for markets, for other Asian currencies, for the Fed's one-day-maybe tightening, for Donald Trump's election bid, and so on. Unlike Hong Kong at the sharp end, they are not so obsessed with trying to peer into the Chinese leaders' minds.
One clue is the (FT) graph showing the RMB against the USD (up = weaker). As it happens, it shows 2011 to today with a range from RMB6.05 to RMB6.45 – but that's not the point. Just look at the pattern up close…
A long period of little jiggly bits, then one big jolt. Officials micro-manage and tweak the currency on a daily basis; what has happened here is that someone broke with usual, longstanding behaviour and intervened suddenly and forcefully. By 'suddenly and forcefully', we could mean 'decisively', or 'boldly', or 'rashly' or 'in a rage', or 'in a blind panic' or something else. If this were an electrocardiogram in an emergency room, there would be buzzers going off.
Away from the fancy FT and WSJ, you get – among other things – juicier, more-lurid headlines, like these…
Bear in mind that China is officially cruising along at a no-problem, as-planned, everything's-cool 7% GDP growth rate. The funny thing is that both these pieces appeared on Monday – one day before Beijing's currency move. The Business Insider article mentions particular data showing levels of freight, power consumption and car sales all dropping in China. This fits with things going on in overseas economies exposed to China: Singapore GDP suddenly shrinking, Hong Kong's luxury-goods sales falling, Korean components shipments down, Australia suffering as commodities soften.
And what are Beijing's own smooth, suave, super-confident, 7%-growth leaders doing up there right now? As well as devaluing after they said they wouldn't, they are pulling levers like crazy to prop up their absurd stock market, begging citizens to holiday at home, blacklisting 120 evil pop songs, fine-tuning Hong Kong U – not to mention arresting lawyers who if anything help pacify citizens – and generally, maybe, losing it.
We have no way of knowing what they know or don't know. Maybe the Communist Party chiefs think they're in deep trouble when actually things are OK: they are overreacting, and stuff like military corruption and pollution and debt will all blow over, no problem. Or maybe they're trying to pretend the country is fine when they – and their buddies pulling wealth out of China – know things are actually falling apart. That's the problem with hyper-secretive paranoiacs: you just don't know whether they are right to be freaking out.
All we can say is that, for us in Hong Kong, our de facto US Dollar currency and our lamentable unpatriotic reluctance to integrate with the motherland never felt better.