To cheer up all of us cartography/apocalyptic-doom freaks, the South China Morning Post presents a graphic showing the effect on different cities of an atomic bomb identical to Fat Man, dropped on Nagasaki on August 9, 1945. (Specifically: 20 kilotons TNT equivalent, detonated at 1,650 ft.) The concentric circles, dark red to white, represent the radii of: the fireball, air blast at 20 psi, radiation at 500 rem, air blast at 5 psi, and thermal radiation creating 3rd degree burns…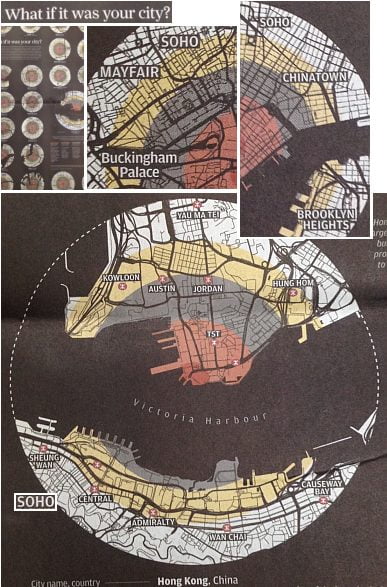 A couple of interesting points…
First, neighbourhoods named Soho seem to escape the worst of it – a case of the devil looking after his own, perhaps, or karmatic compensation for previous tourist invasions. However, as we shall see, Hong Kong's Soho might be less fortunate.
Second, the area suffering serious damage might look surprisingly small, given that this an atom bomb, after all. If you were in Kennedy Town, Quarry Bay, Sham Shui Po or Kowloon City, you could well survive. If you were in Discovery Bay, you would (as ever) be oblivious to what was happening over there on Planet Hong Kong, give or take the dogs barking at the blinding flash/deafening roar.
Having said all this, the graphic does not take account of topography. With detonation at 1,650 ft above the West Kowloon Cultural Hub-Zone (one benefit), the blast would hit the north-facing hillside of Hong Kong Island at less of an angle, meaning that even the upper reaches of the Mid-Levels would probably be obliterated.
By today's standards, Fat Man was a small weapon. China's Dong Feng 5 intercontinental ballistic missile can carry a warhead of 5 megatons, or 5,000 kilotons – 250 times more powerful than the 1945 bomb. The SCMP spares readers the horrors of what this would do. Even the PLA, which likes to hint at wielding its might in our unpatriotic city, has not used this as a clumsy veiled threat, at least not yet. Detonated at around 5,000 metres, it would avoid concentrating the radiation and would spread out the physical blast for optimum effect: the fireball would straddle the harbour; the 5 psi air blast would topple buildings as far away as Tsuen Wan and Shatin; and the 3rd-degree-burn thermal radiation would extend out to Tung Chung, Tuen Mun and Fanling…