Hong Kong Chief Executive CY Leung scraps the city's much-vaunted laissez-faire economic philosophy. As the South China Morning Post reports it, the news is superficially a Huge Radical Shock U-Turn, but under the surface it is simply Yet More Inane Blather Yawn. The clue is the way CY's remarks link a series of unconnected themes, which happen to tick specific boxes in Beijing.
The abandonment of outdated colonial-era 'non-interventionism' was mentioned by his predecessor, Donald Tsang, years ago, and wannabes like lawmaker Regina Ip allude to it. In reality, official interference already massively distorts the Hong Kong economy: all land is owned by the government, and policies on housing, competition and tourism are crafted to tilt the playing field to benefit narrow tycoon and bureaucratic interests. The story here is not 'End of Laissez-Faire'.
CY was being interviewed by Xinhua – Beijing's propaganda agency. For the official spin,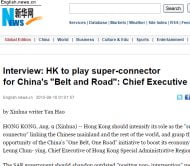 we should look at their version. The angle is that Hong Kong has some sort of major future role as 'super-connector' between the Mainland and the world, especially with regard to China's unfathomable 'One Belt One Road' slogan/project. CY sees opportunities for Hong Kong companies in 'stock farming and even chemical industry' (and yes, it really does mean goats and sheep). He also mentions science, specifically, for some reason, the Swedish Karolinska Institute, of son-of-CY-and-property-tycoon-donation-fame.
CY ties this in with supposed rivalry between Hong Kong and the dreaded Singaporeans and South Koreans. This idea goes back decades. Do such distant and different economies really compete in a zero-sum struggle? Probably not. Korea's 'culture industry' – which CY mentions in the SCMP piece – received state help, but classic (colonial-era) Hong Kong pop-cinema undermined itself through tackiness and Triad involvement.
He then asserts that the lengthy failed effort at political reform and obstruction by pro-democrats have prevented his administration from acting more on livelihood issues, including the inevitable housing.
If you can't see the connection between laissez-faire, 'One Belt One Road' and the evil obstructive pro-democrats, don't worry – you're probably not supposed to. The intended audience is presumably in Beijing, and the message is something like: if I get a second term, I will loyally sign Hong Kong up to all the motherland/integration/China Dream blurb and crush the opposition by bringing the masses along with me through better social policies. As if lead-poisoned water, unbreathable air, inequality, paralysis on issues like traffic and overdevelopment, and a hundred other sources of anger – with more stuff coming all the time – just aren't happening.
Recorded over the weekend, the systematic way the neighbourhood is invaded on a daily basis by tourists…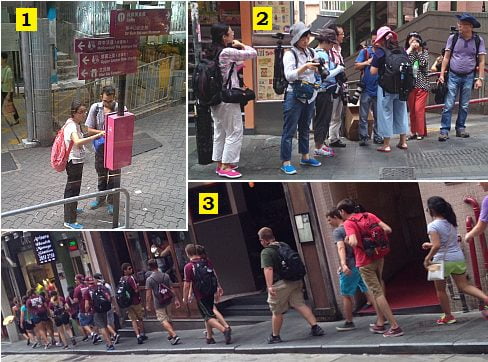 1: 9am – a small special reconnaissance unit infiltrates the area to probe local resistance and identify possible routes up the hill.
2: 1pm – spearhead company establishes forward base and gathers intelligence on ways to inflict maximum damage on locality.
3: 4pm – main assault force floods into district, forcing residents to flee.