China unveils the logo for the commemoration of the 70th anniversary of the Victory of the Chinese People's War of Resistance Against Japanese Aggression and the World Anti-Fascist War. Obviously, a large committee wrangled over it for weeks…
…leaving us with some mightily over-wrought symbolism. The Xinhua report says that the V-shaped Great Wall represents not only the victory but the unity of the Chinese nation. A wall is an unusual symbol of unity, and it sounds like a last-minute addition to the list of underlying messages that had to be crammed into the design. The doves bear an even greater burden in this respect:
The five pigeons demonstrate the memory of history and the aspiration for peace, representing people from the five continents united and moving together towards a beautiful future after going through "bloods [sic] and fire."
But wait – the poor birds aren't finished:
The doves also symbolize the Chinese people … flying to a future of great rejuvenation under the leadership of the Communist Party of China…
They could have said the bold red colour of the '70' represents the rejuvenation Communist blah-blah – thus leaving the doves to signify only the nice cuddly brotherhood-of-man stuff – but maybe that was too goes-without-saying, and the Party wanted more.
The logo is busy in terms of symbolism because the anniversary itself has to convey multiple meanings. The event, including a military parade in Beijing, has to stress the Chinese victimhood thing, and the Communist Party-to-the-nation's-rescue thing. But it also has to lay on a specifically anti-Japanese message, while paying lip-service to future international cooperation and peace. Given the Communist Party's difficulties in calibrating finesse and good grace, Western countries will apparently downplay their presence at the celebrations.
The Xinhua story says that the graphic may not be used for commercial purposes. It's unlikely that anyone would want a Chinese-logo T-shirt without the usual friendly smiling panda bear. And the red-and-yellow colour scheme is a turnoff, with the Leninist, Maoist and other sinister connotations. As the alternatives below show, even with its plodding grim symbolism, the design could have been jazzed up for extra 'soft power' and all-round coolness. That said, perhaps with Hong Kong's forthcoming September 3 Victory over Japan public holiday in mind, it would make a good label for a beer bottle…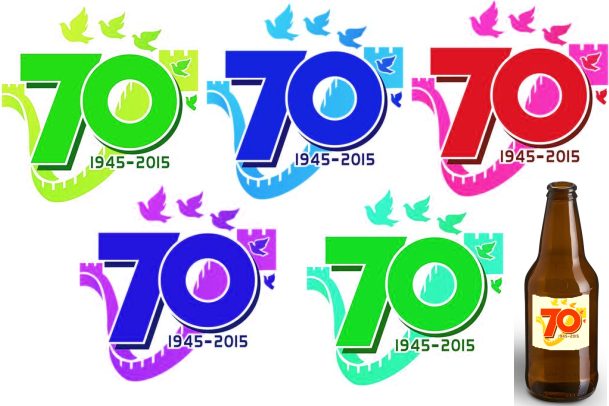 A nagging thought… Is there a piece of shadow missing from the inside of the zero in the '70' (as corrected on the right)?
These things irritate me.