One of Hong Kong democrats' most over-used metaphors is the frog in the pan of water. The frog = Hong Kong, and the person who (for reasons that are not explained) has put the frog in the pan = China. If the water is put straight to boil, the frog panics and jumps out. But if the temperature is increased slowly, the frog gets drowsy and doesn't realize that it's going to die. The message is that the Communist Party and its surrogates will squeeze and suffocate Hong Kong gradually – so we must be forever on our guard.
The South China Morning Post on the day following the July 1 handover anniversary seems to have other ideas. One stridently patriotic-toned headline and story comes after another, as if to frizzle the frog with a flamethrower…
Yet Hong Kong's English-language current-affairs media scene is alive and well – online. We have the Nanfang (with particularly good Taiwan commentary), the specifically local Real Hong Kong News, Coconuts and Harbour Times, and the regional Asia Sentinel, all with their own writing, photography or video content of interest, and there are other blogs, translated material, bilingual sites and aggregators. And now, as you have probably noticed from the fanfare, Hong Kong Free Press has just joined the field.
So today's offering can be found here. (Executive summary: judging from experience so far, the evil would-be amphibian-boiler is ill-equipped and inept, and the alert frog has a chance.)
On the subject of offerings, the manufacturer of my favourite kumquat-flavoured candy is going public. To my dismay, they are ditching their old logo of a depressed middle-aged bald comb-over guy with what we may imagine to be his irrepressibly cheerful (possibly dancing) aunty…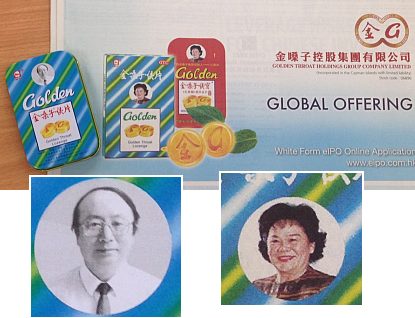 I entirely understand and would definitely do the same – but I will miss him.