Fans of good, hard weekend walks need not despair when the summer heat makes Hong Kong's magnificent trails and country parks too sweaty to contemplate. The city is Asia's Mall-Hiking Hub. And so it was that I enjoyed an invigorating march through the air-conditioned and not-too-crowded scenic wonder that is Elements (don't click on link unless you want a burst of nasty tacky loud muzak).
I had never really visited this West Kowloon shopping-complex-extravaganza before, save for one time I was invited to a (not-too-bad) Moroccan restaurant there, and another when I had to catch a bus to Shenzhen from the space-age Coach Station. Architecturally, it is at the classier end of Hong Kong Property Cartel style, with escalators in places you expect and need them, and relatively few columns positioned in the middle of corridors or a one-foot gap away from a wall. The big Thematic Concept Deal is that it is divided into zones – water, fire, wood, and maybe earth and wind – to represent 'Elements', since hydrogen, helium, lithium, etc would be silly, obviously. (Metal – that's one.)
For some reason, I was expecting the Mainland Locust Emporium from Hell, so I was pleasantly surprised to find outlets catering to local tastes. Chief among these is the 360 Supermarket, which I could happily move into for the rest of my life. There is also a bookstore, Metrobooks. Most of it is dedicated to volumes glorifying Asian dictators, but hey – any bookstore is a rarity these days. And of course there are the inevitable wellness/smearing-stuff-on-face shops, including one where I picked up a tin of 'Whipped Body Cream' for a cousin of mine who is rumoured to be a member of Opus Dei.
A long line of people waited to get into something called Le Salon de The 'de Joel Robuchon' to enjoy the HK$730 afternoon tea set with pink champagne…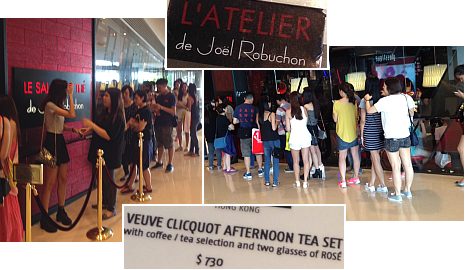 They were all Hongkongers. To be precise, they were all 20-something female
Hongkongers, apart from one poor guy who had obviously been dragged along against his will. Not sure how this became fashionable; maybe some movie star who carries a poodle in a shoulder bag was seen there. Their 'smart-slovenly' attire clearly marked them out as very average in terms of socio-economic strata – this idiotic frippery is the sort of thing that can ruin a city's reputation for rising poverty. (Maybe with housing costs reaching unattainable levels, young people are just blowing their cash on Me, Me, Now, Now. Can't blame them.)
For some reason the South China Morning Post's recent ban on ideas does not apply to the business section, and a piece today laments the decline of two local companies at opposite ends of the trashy consumer goods supply chain – Li & Fung and Dickson Concepts. Columnist Peter Guy says their problem is common to many local business strategies…
…obtain some sort of concession, licence or middleman position and squeeze out small profits. In many cases in Hong Kong-originated business strategies, innovation is all too often a very secondary consideration, where it exists at all.
Isn't this the Hong Kong economy in a nutshell? The whole rent-seeking property cartel thing (monopolizing housing, utilities, transport, construction materials, shopping malls, etc) is about skimming a bit off every transaction by every wealth-creating citizen, forever. The education system is geared up to producing a work-force of commission-earning intermediaries, smuggling milk powder and frozen meat to Shenzhen or toiling as insurance or real-estate agents. And it's all our bureaucrats and planners can conceive of, hence their mindless obsession with getting more and more tourists, more planes, more ships, more trucks, more containers and more stuff coming in and going out, so the city can take a little slice. This whole system is designed to reward parasites and choke innovation and creativity (and is imposed and sustained as a matter of policy, let us not forget).
Still, a brisk stroll around Elements shows that flair, ingenuity and inventiveness still manage to survive in Hong Kong. Just when you thought the old sausage-type-edible-object-wrapped-in-pastry model couldn't be improved upon…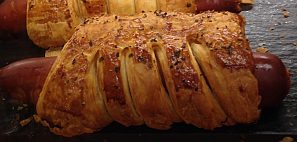 Along comes this…