Hong Kong is not working out according to the Chinese government's plans (or expectations, or hopes, or assumptions based on Dengist Thought and other correct theory).
An attempt to introduce long-promised universal suffrage looks set to be stymied by pro-democracy lawmakers. Out of instinctive Communist paranoia, Beijing's officials came up with a tightly restrictive proposal. Instead of a system where Beijing chooses a hapless incompetent as the winner and 1,200 people take part in a pretend-vote for him, the idea is for Beijing to choose three hapless incompetents as possible winners, and 3 or 4 million people will take part in a pretend-vote for one of them.
The public could have been tempted with promises of a better system later. They could even have been enthused by a vision of a serious, if guided, three-way race and genuinely more responsive government. But the Chinese government's obsession with control and terror of not micromanaging everything had to come to the fore.
Threats that there is no Plan B, and rejection means continuing with the current system, have left the public unmoved. It is Beijing, not the populace, that has painted itself into a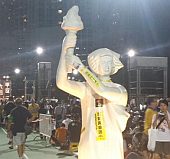 corner here. The current system doesn't work. Some sort of change is inevitable.
Meanwhile, the kids aren't turning out to be quite right, either. China's leaders must have hoped that the post-colonial generation would grow up without their elders' obsession about democratizing the nation. They are getting what they wanted – but with a twist. A growing number of Hong Kong's younger generation eschew any interest in changing China because (they claim) they don't even feel Chinese. It is getting to the stage where the ones that turn up to Victoria Park to demand 'vindication' of the June 4 1989 massacre are the loyal patriotic ones the Communists can feel reasonably comfortable with, given that the others are demanding independence or (assuming you can get any more mind-blowingly blasphemous) a return to British colonial rule.
This wasn't the way it was supposed to work out. The clumsy interventions by the Liaison Office since CY Leung became Chief Executive in 2012 are partly to blame, but it goes back further – to swamping the city with Mainland tourists, to trying to impose National Education and to the repeated appointment since 1997 of incompetent local leaders (apparently the only ones the Communists trust). Every attempt to force integration and squeeze out opposition – or just different-ness – produces a backlash, which prompts even more frantic attempts to bludgeon Hong Kong into adoring motherland and party. Taiwan please note.
I declare the weekend open with the question of where this all leads: does someone in Beijing come to their senses, or do they try even bigger and stupider attempts to crush opponents and instill obedience, or is there some sort of 'muddle through'?