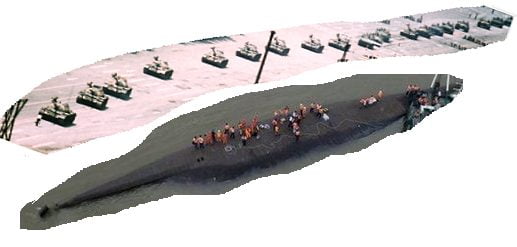 China's massive on-line, print and broadcast censorship apparatus must be working overtime today. Not only is it the 26th anniversary of the day no-one remembers when nothing much happened in Beijing, but there are heroic rescue workers on the Yangtze to laud intensively, and some other stuff to ignore, for another 48 hours before the Eastern Star disaster is neatly faded out from the headlines and collective consciousness.
Hong Kong's propaganda scene is more patchy.
Just when we were all finally agreeing that the political reform package was Dead on Arrival, Chief Secretary Carrie Lam launches another round of meetings to beg pro-democracy lawmakers not to kick the proposal out. This follows last weekend's gathering at Shenzhen at which Beijing officials essentially told the same lawmakers that they and their city were treacherous pieces of crap and would never have anything other than fake democracy. What can Carrie – who has long struggled to sound persuasive on this issue – add?
Any remaining shred of credibility in the proposed reform is crushed by property tycoons voicing their support of it. Li Ka-shing joins the others, and claims that rejection of the reform will hit the Hong Kong economy. He offers no evidence for this. If, by 'economy', he means the landlord-centric, tourist-cramming, rent-seeking baloney of recent years, we can only cheer.
In fairness, Li seemed to be reciting this line out of duty rather than conviction. He sounded more genuine when invited to encourage people to buy property – as we all would in his shoes. This is where private-sector, thus far more efficient, propaganda takes over. People are reportedly desperate to pay HK$12-13,000 a square foot for (other developers') apartments of less than 300 sq ft in some mosquito-infested fringe of Yuen Long, so Li does not have to overdo it. But he cites current construction costs as a reason why prices cannot fall…

Can you spot the fallacy here, boys and girls?
Let's say for the sake of argument that construction costs plus materials plus land costs plus developers' modest and thoroughly deserved margins do currently add up to HK$12,000 per square foot. Today's high costs are pretty recent (and partly due to artificial distortions like government over-investment in infrastructure, tight land supply, etc). The vast majority of our housing stock was built over the last five decades at much lower cost. An owner who bought a Yuen Long flat 30 years ago would be making a nice profit selling it today for just HK$3,000 a square foot.
More to the point, the production costs are irrelevant if supply and demand shift enough. If sea levels rise and Yuen Long is flooded, the developer won't be able to sell apartments there for HK$500 a square foot, however much he paid for the concrete and labour. Li's rule certainly doesn't work with commodities like food, precious metals or oil – the prices of which historically often fall below the costs of production. The idea that apartment prices are 'underpinned' by today's (bloated) construction costs makes sense only in the context of a rigged market, especially when it's well into bubble territory. But this is Hong Kong property-tycoon propaganda, coming from a parallel universe where it is against the laws of nature for a producer to ever sell at a loss, and it works better than Xinhua could ever wish for.