I really was determined not to mention the South China Morning Post's excruciating 'Moving Forward' epic year-long series of interviews of rich old people saying the young are crap. But today's is irresistible. Manufacturer and Beijing-fan Eddy Li comes up with the usual blather about how the kids should quit whining and grab opportunities and (without a hint of irony) how the government should build up and promote luxury brands (he owns Mainland watch factories).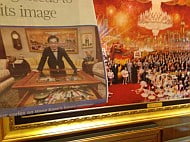 The exciting bit: the SCMP photographs him posing before a large framed picture, showing several hundred figures in rows attending a gaudy fantasy 1997 handover. All the most upstanding members of society have a copy of this painting – a fact I can prove by snapping the newspaper in front of the one we just happen to have here.
It is one of the most tawdry and putrid excuses for an artwork that I have ever seen. One curious thing about it is that all the heads of the Important Patriotic People (painted from photos) are pretty much the same size, so there's something jarring about distance and depth in the composition. As a special treat sometime, I will photograph it in detail and highlight the best bits. Inevitably, a few of the tycoons, officials and shoe-shiners have since fallen from grace in some way or other.
Big news of the day is on the labour front.
Civil servants' unions do their annual ritual of mouth-frothing and freaking out over their

unacceptable pay increases. The 3-4% hikes seem unremarkable. Bear in mind that these people are also on a pay scale that goes up with length of service (independently of promotions), so this is a hike upon a hike. The 3-4% is supposedly based on private-sector adjustments, and you are supposed to think 'fair enough' – the two should be linked, right?
But actually that's a distraction from the true picture, which is that when you include pensions and other perks, civil servants' remuneration can be two or even three times the private-sector equivalent. If I were them I would seriously shut up about 'bad morale' and all the other baloney.
Then we have the latest complaints from Cathay Pacific cabin crew. Like cuddly furry animals and nurses and trans-gender teens who take their grandmothers to the senior prom, CX flight attendants are supposed to make us feel all warm and fuzzy because of their caring and hospitable nature and beauty-and-brains and 'service from the heart', etc. So when we hear that their evil employers are cutting their lunch allowance in Melbourne, our natural inclination is to be outraged at this terrible exploitation, injustice and cruelty.
The lunch allowance was cut from A$60 to A$35 and back to A$55, and is apparently in line with prices on the hotel menu. So we're talking HK$250-300 for lunch, which doesn't seem bad.
However, the last time I checked, what really happens with these allowances is this. The crew buy instant noodles before leaving Hong Kong (of course, they would never swipe the cup noodles from the galley because that's company property). They prepare these delights in the hotel rooms and lustily devour them instead of going down to the coffee shop to eat. They pocket the cash, which the Hong Kong tax authorities never hear about, because it was a meal allowance, obviously. The net result, after doing this every time you overnight in an outport, is a nice tax-free 20% or more on top of your official monthly salary.
Forget the glamorous smiles and 'Tea sir? Coffee sir?' stuff – they're evil and cunning, or you may think, sensible. The point is: as with the civil servants, it would probably be best for them to keep quiet about this. (Interestingly, the other thing the HK Civil Service and CX have in common apart from whiny employees who are never happy is a large surplus of applicants lining up to get jobs with them.)