Today's South China Morning Post comes with a big stiff heavy thing inside it. It turns out to be a translucent envelope containing three booklets 'H', 'M' and 'T', in diminishing size…
When you open them, you find they are interlocking. The smaller one opens onto a picture of a guy next to a swimming pool. The medium-size also opens onto the same picture of the guy next to the swimming pool…
Also inside the booklets are various other pictures – arty black and white architectural shots, vacant-looking women, and a kid asleep with a furry white cat. No prizes for guessing where all this stuff ends up…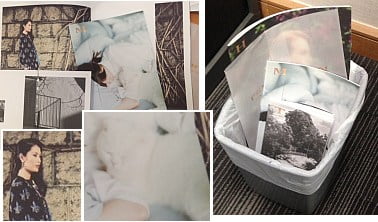 What did it cost to design and print? What was its purpose? What was it trying to sell? We will never know.
At least it doesn't make you feel ill. At the other end of the marketing/design bad-taste spectrum comes this offer to subscribers of the SCMP Online – free access to a publication called the Edge Review. Of all the magazine's many past covers, they choose the one that will make you recoil in horror…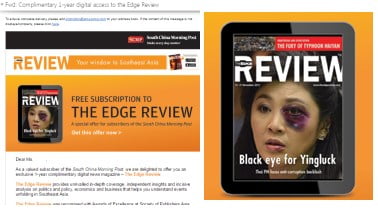 What first looks like one of those shock-value pictures of a battered wife is in fact a Photoshopped image of ousted Thai Premier Yingluck Shinawatra. Presumably this is how the (apparently Malaysian) magazine doesn't get censored by the Bangkok junta.
As it happens, anyone can see Edge Review free of charge here, if they like keeping up with a KL-biased view of the infantile squabbling that sometimes passes for intra-Southeast Asian affairs. Don't all rush. (I think it's Photoshopped – not sure what the generals are

doing with her right now.)
Over in the SCMP's op-ed page, former Home Affairs Secretary Patrick Ho pens a refreshingly different sort of piece on Hong Kong's political reform package. Rather than repeat the tired and dreary pro-reform arguments that are driving us up the wall, he criticizes officials and supporters for being so apologetic about it.
He dislikes the 'Pocket it first' slogan, the notion that the package is 'the best we can do' and the lame promise of a better deal in the future. All these imply that the proposal is somehow substandard, and this plays into the pro-democrats' hands. Instead, he essentially says, campaigners for the package should be jumping up and down at how wonderful it is – the best possible arrangement to serve the interests of both Hong Kong and the nation.
It's a bit late now, of course. The official communication strategy was doomed by the ham-fisted mouth-frothing psycho-act that Beijing officials put on for us last year. The superfluously restrictive conditions of the plan's nomination process seemed to surprise even our own government leaders, leaving them scrambling for excuses. To pretend the proposal was brilliant and amazing and better than we could have imagined would have taken acting skills worthy of an Oscar – and still wouldn't have sounded convincing. A reluctant, hand-wringing admission that the package is basically pretty crappy was probably the only credible way to go. But it's an interesting point, Patrick. Thank you.