For well over a decade, the Chinese authorities have increasingly mishandled Hong Kong. They have appointed idiot leaders in the city, enabled its rampant cronyism, swamped the place with Mainlanders, and undermined values and institutions like police neutrality and freedom of the press. It is hardly surprising that people have become hyper-sensitive to possible threats from Beijing.
For example, a plan to station Mainland immigration staff at the Hong Kong end of a new cross-border rail line – a common arrangement around the world – is guaranteed to cause controversy and alarm about Chinese security forces operating in the city. The closure of a university's post-graduate 'Creative Writing' programme prompts panicky claims about a plot 'plainly intended to limit free expression'.
It is inevitable that a decision by the South China Morning Post to ditch four veteran columnists will be seen as censorship.
Asia Sentinel – founded by one of the four – calls it a putsch carried out on express orders of Beijing's Liaison Office. The Liaison Office has undoubtedly been interfering far more in Hong Kong in the last couple of years. And the SCMP 's pro-establishment bias has been getting increasingly obvious and even clumsy. So perhaps there's overwhelming circumstantial evidence. Asia Sentinel also mentions a familiar list of departures from the SCMP over the years, usually cited as proof of politically inspired gagging. (Though it's a bit of a stretch, and an insult, to suggest that the loss of unfunny humorist Nury Vittachi is on a par with the axing of Willy Lam.)
On the other hand, we have to wonder what these four departures will achieve for the glorious motherland. Did the Communist cadres at the Liaison Office lie awake at night fretting about the dangerous and subversive rabble-rousing of Frank Ching's columns? Does the Chinese Communist Party feel more secure knowing that Stephen Vines' complaints about the challenges faced by small business and the dumbness of bureaucracy will no longer appear? The two worth reading were Kevin Rafferty, an ex-FT Asia hand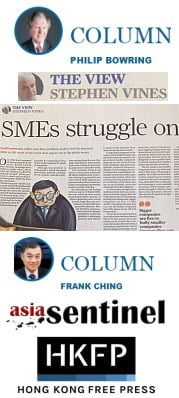 more likely to be scathing about US policy than anything else, and Philip Bowring, a truly incisive and meticulous critic of Hong Kong government policy. Bowring's wife is a prominent pro-democracy politician, but then Ching's is a member of the Executive Council.
All four are 60+, if not 60++. It's probable that as old-school hacks all expect to be paid – which isn't the case with many SCMP op-ed columnists. The same goes for another recent departure from the paper, Howard Winn a month or so back; he has been replaced by such stuff as an astonishingly lame 'Market Talk' compilation of stock-related Tweets. The word is that reporters recently leaving are not being replaced.
(I know of a fifth SCMP columnist who has also been dropped. That individual doesn't fit the profile of the above four, but the word came at the same time; the reason given was 'redesign'. There may be others.)
So what's happening? Search me. The newspaper industry in general struggles to keep its head above water, and the SCMP needs to put any resources it can spare into the on-line product. So it would not be surprising for them to trim costs desperately. But beyond a point this surely becomes counter-productive: Bowring's commentary was one of the few reasons to buy the paper on a Sunday.
One of life's greatest little amusements in Hong Kong is watching for the SCMP's weekly gratuitous and egregious pre-emptive shoe-shine – typically an absurdly obsequious report on China's visionary leadership. For all its faults, the paper does plenty of straight reporting, so such items stick out. This material is clearly not aimed at influencing readers, who can only heave at such ludicrous and unsubtle pap. It is obviously intended for consumption elsewhere: either the editors put this stuff in to impress the owners, the Kuok family, or the Kuoks put it in to show Mainland officials. Perhaps the Kuoks hope to impress the Liaison Office by being able to say, 'look we got rid of these pesky foreign columnists and their lack of positive energy'.
The peskiest smart-ass foreign writer in the SCMP is Jake van der Kamp, and he survives.
Whatever is happening, we can be reasonably sure it won't benefit the Kuoks. The old man bought the SCMP when it was one of the most profitable papers on the planet, and the share price has since shriveled. More to the point, owning a newspaper as a way to pay tribute to the emperor is a massive headache. You are petrified that by doing its job properly it will cause offense, but you are left with a bigger and bigger reader-shedding dud if you make it so bland that a Frank Ching column is too edgy. And at the end of the day, the Communist Party will kick you in the teeth anyway, because no-one's usefulness lasts forever.
To end on a bright note, these four guys are not being censored in the actual sense of the word (which excitable people should look up in case they really need it one day). Willy Lam and Jasper Becker are writing as well as they ever did to appreciative audiences. Philip Bowring writes for other outlets, like Asia Sentinel. And if the SCMP is destined to banish what remains of its readable content, the launch of HK Free Press looks perfectly timed.
(I'm still trying to get my head around how much more amazing Shakespeare would have been if he had done a City U Creative Writing degree.)