That five-day break zipped past all too quickly. For some, however, it must have seemed like an eternity. I am thinking of the poor wretches who saw fit to visit Hong Kong's outlying islands over the weekend. By all accounts, they stood in line for hours under the hot sun just to get on a ferry, and would have found the narrow streets of Lamma, Cheung Chau or Peng Chau horribly crowded once they arrived.
I know a few had grave-sweeping duties to perform, but most went voluntarily for supposed fun. They would have arrived at the Central ferry piers to see huge lines of other holidaymakers already there – and they queued up to go anyway. I don't get this: everyone else is doing something, therefore we must do it too. Surely the rational and sane thing to do is to turn round and go somewhere, anywhere, else.
For example, they could have enjoyed the 1980s ambience (and air-conditioning) of the Wing On food hall and its unpredictable and unusual range of goods. At the moment, they have a Malaysian products promotion, including pandan salty peacake – a crumbly pastry you don't see every day, at least in Central…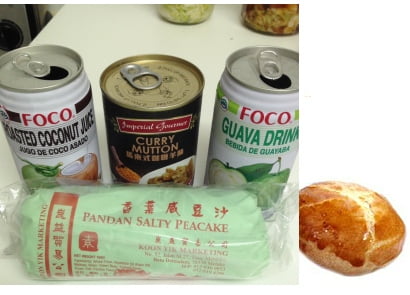 I also picked up a mystery brand of canned mutton curry. Not thrilling, but certainly much more fun than standing for hours with thousands of others to pack myself into Lamma. (Just visible top right: holiday industriousness in the form of new batches of sauerkraut and kimchee, which in this warm weather started fermenting in minutes.)
On the subject of Lamma, I wonder if the 'tourists' (mainly Hong Kong urbanites) who go there realize what a strange place it is. The report of a tragedy on Friday sounds almost like a short story with every Lamma cliché thrown in…
…Linda passed away in a fire at her home about 1:30am, Good Friday. No one is exactly sure what happened, but here are some details. Jill, her near neighbour reported an explosion and fireball at about 01:30 which set the trees in Linda's garden on fire … She had been especially poorly since the Wednesday before the Rugby Sevens which was the last time I saw her and helped her get up the hill to her hovel-cum-home.

…Her three dogs, Puppy Duck, Chok and Paley were able to get out and are unharmed. Dr. John Wedderburn might be caring for them short term, but they're going to need new owners quickly.

Linda had said she didn't mind if they were split up if that made it easier to home them. Here's hoping that will happen. I don't like the thought of her mostly harmless dogs (Yeah, they had a few nip attacks on people and other dogs now and then, but that isn't because they're bad dogs. Just insufficient training which Linda was too weak to carry out) being put to death. Especially when such lowlife scum like Blair/Bush/Cameron/Cheney and their Democratic, Republican, Conservative and Labour fellow misfits from the shallow polluted end of the human gene pool are still flopping and wallowing about…

Anyway, the house is gutted. The plastic roof has melted along with the support beams and most of the furniture … It was a grim house in ways. Jez the magician choked to death on aspirated vomit up there one Xmas night at the turn of the Millennium. Alan died of a heart attack up there a few years ago. His body wasn't found for about three days.

…Linda never really got over Alan's death. Especially the realisation that she had been sleeping about five feet above his body before the police found him. … Our extended Lamma family is one link less now. The thought of that is hurtful. Seeing as today is Good Friday, I hope their reconciliation on the astral plane starts soon…
A lot to take in. A deadly explosion. Three dogs, each named, 'mostly harmless' ('a few nip attacks'), and the importance of  re-housing them in order to avoid a fate more deserved by Dick Cheney. A melted plastic roof. And then we learn that two other deaths occurred in the same house: the partner Dave, who was there unnoticed for days, and (no fiction writer would dare go this far) 'Jez the magician'. Who drowned in his own vomit. At Christmas. Reunions, hopefully, on astral plane. Only in Lamma.
Which brings us rather neatly to the issue of the naming of dogs. The Standard reports that to do so for four Labrador pups will be a 'rare distinction'. The animals concerned were, the paper tells us, recently born 'for the first time' (as opposed to being reincarnated after previous lives, with intervals no doubt on the astral plane). (Or maybe it means it's the first time Labradors have been born in Hong Kong – but that sounds unlikely or unknowable.) When it says 'from Taiwan parents', I immediately envision the canines springing from humans, but I guess dogs can be Taiwanese too. No word on whether the creatures are prone to 'nip attacks'. Anyway, the future guide dogs must have names beginning with 'H'. It's as good a way as any to get back into the daily routine after a lengthy holiday…
OK – I think I've got it: the dogs have been born before, but not in Hong Kong. That must be it.