The South China Morning Post reports a mysterious signature campaign purportedly aimed at cajoling at least some pro-democrat lawmakers into voting for the government's proposed political reforms. Although the idea is attributed to moderate non-lawmaker democrats, no names are given.
The petition reportedly says that even a fake-democracy election in which all Hong Kong people can vote will offer the hope that greater public pressure will come to bear on the city's leadership than under the current system. This is a reasonable argument. But so is the pro-veto one – that endorsing and embracing Beijing's fake-democracy system will legitimize future Mainlandization and all the other ongoing crap. The fact is, both claims make some sense and both are impos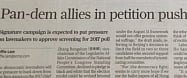 sible to prove one way or the other.
Officials have been reluctant to employ the 'greater public pressure' argument. The whole issue of political influence and power is too sensitive to discuss out loud. The Communist Party has all ultimate power. It co-opts 'various sectors' like property tycoons with commercial benefits and a bit of influence. Influence/power is a zero-sum thing: give more to one person or group, and by definition you take it away from others. If the proposed 'fake democracy' system does increase the public's influence over the Chief Executive (theoretically possible even in a pre-screened competitive race), who would lose it? It must come from somewhere.
To put it another way, if an official like Chief Secretary Carrie Lam or some Liaison Office ogre openly promised that the tycoons would have less clout if the package went through, the pro-dems would have no choice but to vote it in. Then again, Beijing could strip the tycoons of whatever influence they have at any time (leaving aside that it's more illusion than substance) with no need for a political reform package. It all comes down to whether the Communist Party is constitutionally capable of relinquishing just a bit of control, even within a definite and managed framework. Whoever is behind the 'petition' is arguing that it can.
For a clue as to whether they are correct (or being honest), let's move on to the big story today: the Hong Kong government will not renew ATV's broadcasting licence. Since the
station is unable to pay its staff, let alone produce worthwhile programming, this is hardly surprising. But the story offers a microcosm of the contradictions Hong Kong has to deal with as a free society and market under the sovereignty of a one-party state.
Not many people like to spell it out, but the basic rule is that no-one can operate a TV or radio station in Hong Kong unless the Chinese Communist Party is OK with them. The result is an industry that has increasingly been run by shoe-shiners and even buffoons. This secret, unwritten policy was pretty much on display when the government denied a licence to Ricky Wong's HKTV in 2013 while giving the go-ahead to Beijing-loyalist tycoons' rival services.
For reasons we can only wonder at, a self-consciously pro-Beijing corporate culture sadly tends to eat away at the creative vision and flair that make for great – or even average – media companies. As ATV became more 'red', its ratings predictably dwindled. Traditional print and broadcast models are having a tough enough time, without driving audiences away with pro-Communist propaganda. Little surprise that for much of the politically aware younger generation, the main or even sole source of news and comment (and entertainment) is on-line.
Leaving the public-service RTHK aside, the nearest to a bold and independent broadcast presence in Hong Kong will now be the newly licenced HKTVE run by Richard Li – number-two son of uber-tycoon Li Ka-shing. For possible reasons we will gloss over (of a sibling-rivalry/Oedipus nature), the boy Richard has a maverick streak that has led him to do wacky things like buy advertising in the pro-democracy Civic Party's publication. But essentially, broadcasting in Hong Kong looks set to be ever-more 'harmonized', and less watched and less profitable with it. Crush the life out of something. This is success, Communist dictatorship-style.
I declare the five-day weekend open with a treat for heraldry (or just design) fans I just found tucked away in my photos folders…