Today's Big Story was supposed to be the tragic and disastrous collapse in Mainland tourist arrivals into Hong Kong, which is all the fault of teenagers waving flags in Sheung Shui, which behaviour in turn highlights the necessity for anti-independence laws. Rapacious capitalist landlords, dictatorial Communist patriots and the decent, sensible, law-abiding 99% of the public would thus unite to denounce evil foreign-influenced uneducated dissident bad elements aiming to destroy our livelihoods and the nation. Awkwardly, Hong Kong experiences at this very moment a Mainland flood everyone can live with: southbound cash pouring into the local stock market. So the 'pro-dem separatists ruin precious tourism industry' frenzy fails to make it onto the front pages.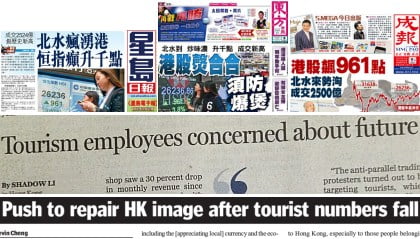 It is a case of too many officials getting too desperate about too many things all at the same time.

In Hong Kong, the administration is feeling the heat from Beijing's representatives and sympathizers – and the accompanying shoe-shiners – about pro-independence forces. Although no such movement exists in any substantial form, they must be seen to take it seriously. The Justice Secretary issues a statement clarifying that independence is inconsistent with Hong Kong's constitutional status, and (he feels a need to add) with its interests. At the same time, the luxury retail chains are feeling the pinch. The 'alarming' year-on-year fall in Mainland visitor numbers (479,000 to 447,000) seems pretty minor, so the up-market shops are clearly feeling the effects of a weak Euro and China's anti-corruption campaign. (Easter is not a holiday in the Mainland, and Ching Ming last year was 10 days before Easter, so comparison between the two periods' arrivals figures is probably meaningless. Sadly.)
Meanwhile, up in Beijing the Central People's Government is desperate about a possible economic downturn. With startling originality, the country's leaders are trying to ramp up asset prices. Retail investors are putting savings (and borrowed money) into the Shanghai and Shenzhen markets, pushing prices up (to seriously weird levels in the case of obscure tech companies). This makes Hong Kong-listed shares of Mainland companies look relatively cheap, so cash comes down the Stock Connect channel to buy them. Seeing what analysts politely call the 'momentum', local funds join in the fun. From my window, I can see pro-independence activists ditching their colonial flags and lining up outside a brokerage to open day-trading accounts.
As we all know and fully appreciate, under 'one-country-two-systems', Beijing's wishes come first, Hong Kong's second. So our local administration's mass-bed-wetting freak-out about pro-independence forces will be suspended until further notice while the Wall of Mainland Money Through-Train Frenzy takes place.