April 1, and the joke stories in the South China Morning Post are rather good.
An exceptionally scummy-sounding business venture – importing indebted and impoverished women to work as maids – goes bust after (this is the give-away) caring and kindly officials in Burma have second thoughts about allowing their citizens anywhere near Hong Kong's psycho housewives.
A public body's boss resigns because she thinks her agency, the Urban Renewal Authority, should serve the people and not property developers (OK, so it's a bit too absurd, but I laughed out loud).
And someone is willing to pay money for morally/financially/artistically bankrupt ATV – and that person is Ricky Wong, whose 2013 TV licence bid was rejected by the government to protect pro-Beijing tycoon players like… ATV.
Even advertisers join in the fun, with Fendi suggesting that the already-demented-looking among us might want to dress up in a shirt with non-matching sleeves while carrying a schoolkid's cartoon case, complete with yellow furry bobble thing hanging off it.
Putting the jolly Fools' Day japes to one side, we also learn that the Hong Kong government is out to measure 'youth competitiveness'. Delving deeper, we find that the decision to gauge it was made before researchers actually knew, or asked, what it is…
After due consideration they decide that it is all sorts of things…
…most of "them" needing "to be" put "in" inverted "commas" in that slightly "disturbing" way "Chinese" state-owned "newspapers" do when "mentioning" things "they" don't "like".
('Living ability'?)
It is tempting to mock this mélange of sociology-babble, do-gooder hand-wringing about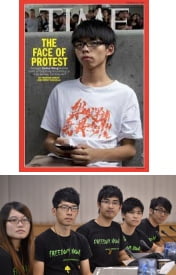 'youth' and bureaucratic fretting about Hong Kong's place in the world. It is all too easy for us to sit on our laurels. How can Hong Kong – birthplace of such impressive youngsters as Time/Forbes/Fortune hero Joshua Wong – seriously doubt the competitiveness of its kids? Watching the students run rings round their stuffy and witless elders on that TV debate last year, who could doubt the superiority of the next generation?
Then, from our deadly rival Singapore, a new adolescent star bursts onto the scene: Amos Yee, whose magnificent good-riddance video rant at Lee Kuan Yew even incorporated a brief stomping for Christianity. Can Hong Kong match that? At the very least, we should consider setting up a Teenage Precocious Satirical-Slander Talent Quality Migrant Visa Scheme to get Amos up here and issued with an ID card.
Our 'youth competitiveness' campaign has its work cut out. It's not every day a 17-year-old can justifiably smirk, but this one's earned it…