It is a wrenching dilemma for an Op-Ed Page Editor. On the one hand, you need to make a bit of sense occasionally to preserve a modicum of sanity and integrity. On the other hand, you have to pander to tycoons and shoe-shine the government almost incessantly. How to strike a balance, straddle the divide, square the circle?
The answer is to carry an article that seems bold and profound on the surface, even though on a second read it says nothing at all. For a master class in how it's done, we need look no further than today's South China Morning Post, which features a piece on Hong Kong's influx of Mainland visitors. This is a highly sensitive topic that manages to push every button: Mainlandization, inept government, uncaring officials and property hegemony. And there's no airy-fairy win-win middle ground: it's a small minority of people making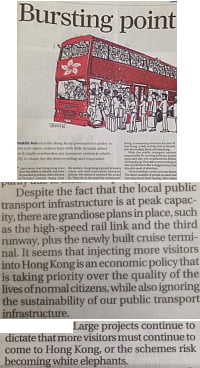 millions selling tons of Ferrero Rocher to hordes of smugglers versus everyone else suffering the overcrowding, price hikes and inconvenience.
The article begins with a declaration that 'Hong Kong must have the ability to identify and solve its practical problems'. Seven million people reel in shock and wonder why no-one had thought of this before. It then outlines various obvious truths about the inanity of sucking more tourists in and the stupidity of policymakers who focus only on big infrastructure projects to channel the tourists here (though he neglects to mention that the real aim is to channel taxpayers' dollars into property/construction interests' pockets).  And the writer helpfully reminds us that crowding can make life stressful and, for good measure, spread infectious diseases.
The key point, however, is an astonishingly original and insightful revelation: the problem isn't too many visitors – it's insufficient space. (Specifically, not enough bus and train capacity, but by implication he surely means sidewalks and retail premises too.) Blaming the visitors, he says, is wrong; it's the planning and policy that are at fault. (Anywhere else, and I'd assume this was a prematurely published April Fool's joke, but in the SCMP in Hong Kong in 2015 it can only be true: the writer is an 'accredited mediator'.)
So that's the problem sorted out then! And there you all were – you silly people – imagining that there were too many Mainland shoppers, when all along it was not enough buses! What a relief.
Let's test this idea in the comfort of our own office. Get an empty, standard-size mug and put it on your desk. Now get a big bottle of water. Start pouring the water into the mug. Don't stop until all two litres of liquid have left the bottle. What do you notice? All your paperwork is sodden? Your lap is soaking wet? The computer is making funny sizzling sounds? No – rubbish. Relax. None of this is happening. The problem is not enough mug.