RTHK Radio 3 gave its listeners their weekly dose of Emily Lau this morning. The presenter noted that the chairman of Hong Kong's pro-Beijing Democratic Alliance for the Betterment of HK party looked set to give way to a younger leader, and asked the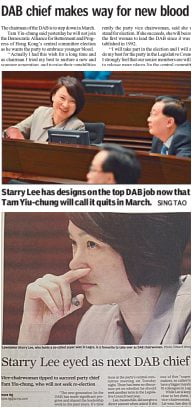 Democratic Party chief what she thought. She said it was excellent, and proudly added that her own party had recently appointed several younger-generation members to its central committee. So the presenter probed her about following the DAB's Tam Yiu-chung and handing the DP's top job to an up-and-coming junior. It is not often you hear a half-second gap of pure silence coming from Emily, but that's what happened before she awkwardly started waffling about the importance of encouraging and grooming younger members, in an attempt to avoid saying 'forget it'.
Emily should instead have expressed outrage (which she does so well) at any suggestion that there is some sort of equivalence between the DAB and the DP.
The DAB is the official, local, public front for the Chinese Communist Party in Hong Kong. Its role is to sustain and develop a support base among voters, which it does, helped by ample funding, through diligent social work and election-time lunchbox-handouts in poorer neighbourhoods. Its members must toe the party line and not form – certainly not express – independent or original opinions. Since absorbing the 'middle-class/business' patriotic group 10 years ago, it has been Beijing's main visible political organization in town, alongside the Federation of Trade Unions (a parallel brand targeting labour).
The DP, by contrast, is one of half a dozen fractious, squabbling pro-democracy groups, albeit the original one. As with the others, it is a make-believe party, with no hope under Hong Kong's political system of holding power – only of being in opposition. Like the others, it has a tiny membership and limited resources, and is run by a self-regarding old-guard who struggle to cooperate with pan-dem rivals, let alone make way for fresh blood. It has little interest in grassroots or community work and no clue what a policy is. It is a single-issue group dedicated to achieving democracy as an abstract structure and a noble end in itself, and it is firmly rooted in Hong Kong (or what the DAB would term 'Western') values. As in the whole spectrum of pro-dem groupings, its members are gloriously free to think and say whatever they want, and they do, quite a lot.
All eyes favour the gorgeous pouting sex-bomb Starry Lee as the DAB's dashing and youthful new leader. Except 'leader' is the wrong word. The DAB is subject to the Communist Party, and its chairman can only be a loyal figurehead who must read from the same prepared script as everyone else. He or she will not be involved in serious internal politicking, as power struggles up north and the suchlike will be handled by Beijing's minders. Nor does the chairman need to worry about administrative work, which a well-resourced secretariat will do.
To remind ourselves about the centralized and ordered nature of pro-Beijing forces, recall the final days before the 2012 quasi-election for Chief Executive. The preordained 'winner' Henry Tang had long been endorsed by the city's shoe-shining tycoons, but (in murky circumstances suggesting a Beijing power-struggle) ultimately plummeted in the public opinion polls following revelations of womanizing and an unauthorized luxury basement. Throughout those many months, the entire DAB/FTU bloc (which not coincidentally has a de-facto plurality on the Election Committee) was impassive, members saying simply that they had 'not yet made up their minds who to vote for'. Right until the last minute, when the word came down, and as one they obediently cast their ballots for CY Leung.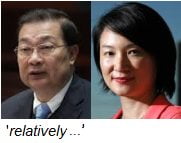 That takes discipline and control. Starry's role, if she gets the job, will be to put a personable, modern and relatively glamorous face on a cold, ugly and menacing totalitarian system. Maybe the pan-dems' dreams will come true, and their opposition will persuade Beijing to give Hong Kong representative government. But maybe that won't work, and the Communist system will continue to tighten its grip on the city – in which case, Starry will make a lovely puppet Chief Executive one day.