Labour and Welfare Secretary Matthew Cheung rediscovers an old, embarrassingly inapt

and best-forgotten solution. Now all he needs is a problem – or better still, a whole bunch of them, real or imagined.
The South China Morning Post reports this story almost entirely as recited by Cheung. In essence, thousands of stay-at-home mothers could return to work if their children had after-school care. This would be a Good Thing, as it would help tackle the Aging Population Looming Storm Terror. The kids, from poor backgrounds, would receive mentoring from professional types who would inspire them and boost their language skills while they wait for mummy to finish her shift at Park N Shop. This would be a Good Thing because – how can it not be? Some of the funding would come from Centum Charitas, a philanthropic group comprising the offspring of many of Hong Kong's richest tycoons. This would be a Good Thing because it's not welfarist and it could reduce hatred of the rich.
It would be churlish to dismiss the whole thing as a putrid PR stunt trying to promote a multitude of self-serving bureaucrat-tycoon agendas simultaneously. Some poorer mothers probably would welcome the chance to earn more, and perhaps young ragamuffins would benefit from after-school coaching by urbane middle-class social betters. So in all fairness, let's say this is 80% a putrid PR stunt trying to push too many lame and selfish establishment priorities in one efficient package.
Let us count the ways 'Nine Properties' Cheung is promoting falsehoods, delusions and distractions.
First, the 'aging-population' phenomenon, about which our policymakers have officially been wetting themselves since Donald Tsang became Chief Executive. Thanks to continued human progress, people are healthier and therefore living longer. This is a Humungous Problem. Oh – how much better everything would be if we could go back to the days of TB and smallpox and average life expectancy of 43 years!
In countries with bankrupt governments and stroppy labour unions, this modern demographic pattern poses an actuarial challenge, as a shrinking workforce has to subsidize a growing population of retirees (though immigration offers a fix). In Hong Kong, with gargantuan fiscal reserves and famously flexible and thrifty people, this is not so much the case: government spends a bit more, and people work longer and save a bit more, and presto – the problem vanishes. Unless you despise your fellow citizens and want to reserve public wealth strictly for your own bloated pensions and your construction-industry pals' infrastructure slush-funds, there is nothing to worry about.
Second, 'We care deeply about poverty and inequality' and 'We must avoid populism and welfare'. You could write a book about this (like this one). Hong Kong's economic structure forces the poor and much of the middle class to subsidize the ultra-rich. This is not Marxist pseudo-science or a trendy Thomas Piketty thesis, but something very specific to this city: the systematic way the economy extracts and channels wealth, ultimately via the land system. Hong Kong could easily provide or afford higher wages for the low-paid, nursery/childcare services for working mothers, child allowances for the poor, and lower costs for essentials like housing. But that would mean less wealth diverted to Matthew Cheung and the rest of the bureaucrat-tycoon caste. So instead, we get silly, piecemeal one-off gimmicky schemes with a hint of lottery about them subsidizing particular sub-groups' micro-scale needs within tight limits for a set amount of time. PR stunts.
Third – we save the best for last – 'Let's reduce hatred for the rich'. OK, Centum Charitas may be just one of the non-government groups involved in funding this hairball of an initiative (try naming it: The Mentors for Working Mothers' Poor Kids Let's Love Tycoons Scheme). But Centum Charitas is irresistible.
It is a group of 100 (in theory) tycoons' kids founded in 2008 at the behest of Beijing's local officials to appear generous and warm-hearted and caring (recorded here at the time). It was lame and contrived even then, and I suspect that parasitical cartels have not gone up in Hong Kong public esteem since. Indeed, in the aftermath of Occupy, we have come closer than ever to the point where the scions of our property conglomerates dangle from lampposts in the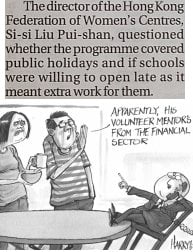 early morning gloom. Most of us probably didn't realize that the rich-kids' mock-altruistic Centum Charitas is still around, doling out scholarships and other crumbs for the little people. What on earth is Matthew Cheung thinking, dredging it up now as a way to 'reduce hatred for the rich'? Hallucinogenic mushrooms are the best explanation I can think of.
The SCMP, which assigned three reporters to this story, carries no independent comment analyzing this half-baked, myth-peddling, Donald Tsang-era social welfare Band-Aid PR stunt – just a quote from a social worker nitpicking about the scheme's operating hours. (At least the Harry cartoon pokes fun.)