Hong Kong's latest pro-democracy group, 2047 HK Monitor, publishes an advertisement in the Wall Street Journal. It asks the Chinese Communist Party to honour its commitments to maintain the city's autonomy, legal system and freedoms, to allow full democracy, and to ensure a fair and clean business environment. Perhaps the most resonant request is Number 8, asking Beijing to 'understand Hong Kong's unique historical background…'

The division and distrust between the central government and Hong Kong's population seem rooted in mutual incomprehension. Pro-Beijing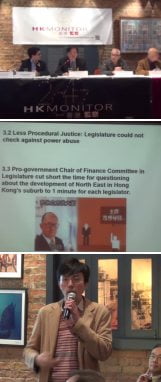 figures often blame pro-democrats, students and other dissenters for 'not understanding' modern China. But the onus is surely on the sovereign power to clue itself in on its recently resumed territory. All the signs are that Beijing officials have zero empathy for the communal memory of a city settled by refugees who fled Mao's terror and famine. They have nothing but hostility towards the population's attachment to apparently 'un-Chinese' concepts of law and liberty. And they totally lack the imagination to earn and inspire loyalty and respect, knowing only how to demand it and demonize anyone who doesn't comply.
As Gordon 'collapse of China' Chang suggests here, this crude and cold obsession with control of the populace is proving to be equally counterproductive in Tibet and Xinjiang. All you have to do is be nice to people – is it really that difficult? But of course the authoritarian Leninist culture, resurgent under Xi Jinping, cannot work that way. The Communist Party is about its own narratives and an alternate reality. It can't win critics over by saying: "Yeah, we seriously screwed up, starving 40 million people to death in the late 50s." In the Mainland, the famine (like the party's passivity in World War II, like the Cultural Revolution, like 6-4-89, etc) officially didn't happen, or hardly. People who know otherwise are deviant, a threat – enemies who don't/can't/won't love the motherland.
Maybe in a way 2047 HK Monitor is missing the point; Beijing does understand Hong Kong all too well.
Indeed, maybe it is the group of pro-democracy financiers and professionals who don't entirely get Beijing. Their ad's 10th and final request asks for universal suffrage in Hong Kong that can be 'leveraged as a blueprint' for democratic elections in China…

Assuming a central government official reads this far, now is the time when he screws the ad up and angrily chucks it away, more convinced than ever that political reform in Hong Kong spells doom. Request number 10 is (if modestly) asking the Chinese Communist Party to give up its monopoly of power, and essentially cease to exist. Obviously another evil 'unique melting pot of Eastern and Western cultures' conspiracy.
The 10 requests in full…