A survey shows 59% of the public think protestors have gone too far. That's in Ferguson, Missouri. Not sure what the latest opinion polls on Mongkok are, but tensions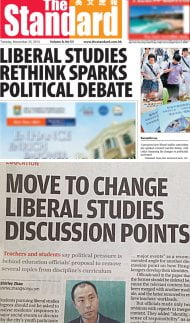 are apparently running high there as well this morning.
While we're waiting for that to unfold, the news is full of Liberal Studies – the Hong Kong high-school subject no-one can understand because there is nothing to learn by rote. Officials are proposing amendments to 'discussion points', which we can assume are guidance on themes the teacher should encourage students to consider when they're not learning anything by rote.
To put the story in perspective, this is part of some mid-term blah-blah academic structure review, which proposes presumably humdrum changes to (among others) the music curriculum, and is subject to public consultation. But this is Hong Kong in the mid-2010s, and if you are looking for an underhand attempt to micromanage the brainwashing of young minds taking an unwholesome interest in politics, it shouldn't be too hard to find it. Specifically, the Liberal Studies bosses want to eliminate talk of why adolescents might participate in community affairs…

It was OK when 'community affairs' meant fund-raising for charities, but now it could mean joining pro-democracy demonstrations, so that's out. Instead, the idea is to shift the word 'adolescents' into the discussion on how government cares deeply about and strives to serve all the 'various sectors'…

That's assuming our high-school students meekly go along with it. They could just as easily turn this 'module' or whatever it's called into a class debate on how the government favours property tycoons and shafts the kids and everyone else.
The proposals also suggest that teachers avoid mentioning 'feelings and responses towards major events' (I feel a shiver down my spine just thinking about it) and the even more horrifying subject of Hong Kong identity…

The word 'identity' now gets shoved into the bit on 'sense of responsibility, altruism and self-actualization as reasons for involvement in socio-political affairs'…

Which still gives plenty of opportunity for uppity students or radical unpatriotic teachers to stir up hatred against the motherland. (As a community service to spare everyone the bother, I looked up 'self-actualization' – it seems to be psycho-babble for not being a loser.)
Which is more charmingly naïve? The idea among officials – if it exists – that the government can de-radicalize teenagers by rejigging the wording in the teachers' notes for a couple of sessions in a nebulous subject few take seriously? Or the idea among sensitive and critical pro-democrats – if it exists – that officials are that dumb? A far more believable explanation for any apparent attempt to control kids' thinking is that bureaucrats are following orders from on high to give extreme patriots and Beijing apparatchiks the impression that the Hong Kong authorities are clamping down on a non-cause of the Umbrella-Occupy Movement.
Along with interference by evil foreign forces that we can't name because it's not appropriate, incorrect schooling is the main official reason why Hong Kong students and other citizens took to the streets in no uncertain manner in late September 2014. After all, the Chinese Communist Party is perfect, so insulting political reform packages, United Front threats to the law and the press, plagues of Mainland shoppers, and blood-sucking tycoons and landlords can't have anything to do with it, oh no. It can only be the fault of incorrect classroom discussion on self-actualization – if not classroom discussion, period.