The red arrows on this panorama of Kowloon seen from Hong Kong's Western waterfront yesterday indicate the tops of old 11-storey housing blocks. Before Kai Tak airport closed in 1998, few of the buildings in this scene would have exceeded this height level…

To add to the nostalgia, I took a tram yesterday and recalled a time when the fare was 60 cents.
And that, I'd like to think, is enough flashbacks from a bygone era for a while. But it is not to be. Today's South China Morning Post has a letter from Hilton Cheong-Leen. (Whaddya mean, who? Wikipedia has a brief bio, and this SCMP profile from 2003 fleshes it out: a pioneer of Hong Kong electoral politics in a colonial time when people knew their place.) As a mark of respect to the 94-year-old, the paper gives him pride of place. In essence, he welcomes the formation of former Chief Executive Tung Chee-hwa's new think-tank and hopes that it can do good and positive things, though sadly he does not offer specifics…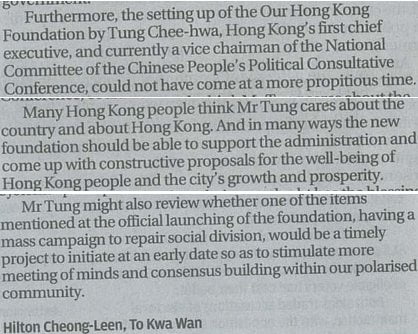 The emphasis seems to be on convincing the community that all is well, rather than daring to consider the possibility that things are in fact massively screwed up and need fixing.

An obvious example that things have gone wrong is the way that despite an increase in floor space – as seen in the Kowloon skyline – simple housing has become unaffordable to most of the younger generation. (Incidentally, the government is going to plan childcare facilities into future public housing projects. With the middle class able to afford only private-sector apartments of 200 sq ft or less, maybe public housing tenants will in future be the only people in Hong Kong able to have children.)
Then again – what lack of space? I took my photo of Kowloon from a sprawling and largely empty waterfront spot: Western Public Cargo Working Area. It is illegal to 'loiter' here, but you can jog (if you must), stroll, admire the view, fish, bring kids to cycle round, or (discreetly) sort of hang out…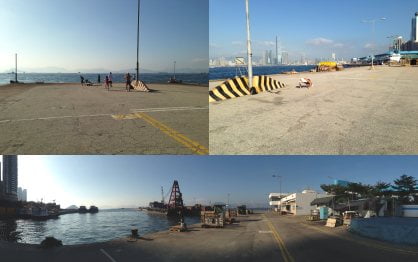 It has lots of rusty pipes, grimy palates, scrap metal and other industrial-era stuff you don't see up-close every day on Hong Kong Island…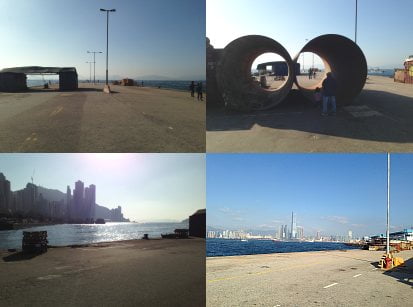 And of course it's where our supplies of gutter oil are landed…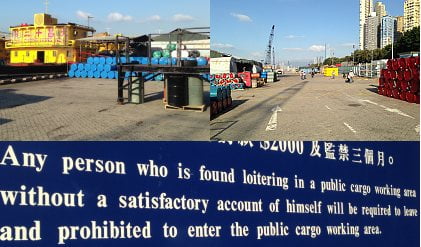 Locals who know about the place like it so much they are against turning it into a real waterfront promenade with seats, ice-creams and dangerous trees. (In all fairness to paleo-establishment survivors like Hilton Cheong-Leen, it is amazing how hard to please Hong Kong people have become since the days when they were grateful to be assembling plastic flowers all night in their shacks.)
As if the Public Cargo Working Area weren't perfection enough, it has two entrances – so you can go in one end and leave at the other, just where you expect a fenced perimeter to force you back, which is how the parks-designers would arrange it. Just outside, across the street, you're back in the usual overcrowding and congestion of Kennedy Town. A ground-floor shop has been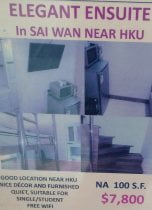 sub-divided into tiny business premises selling home-made fashion, pet toys and other suitably small items. One is a property agency, offering a (comparatively large) 100-sq-ft 'elegant ensuite'. What happens when you sub-divide a sub-divided apartment, I guess. A bargain, apparently, at HK$7,800 a month.
So many contradictions. Maybe Hilton's idea for a 'mass campaign to repair social division', being 'a timely project to initiate at an early date', would 'stimulate more meeting of minds and consensus building within our polarised community' and make everything right.